South Africa April 15-May 7, 2017
TRAVEL TIPS
1. Wild Card. This covers the conservation fees (basically the entrance fee) paid every day you spend in a national park in South Africa or Swaziland. For a foreigner, the cost is R2200, expensive but 4 days in Kruger will cost about R1200. Go to lots of parks and it is a great deal.
2. Holidays. We were here at Easter when almost everyone is out of school or on holidays for a few weeks. Everything was booked out – vehicles larger than small cars, spots in rest camps in popular National Parks like Kruger, and some accommodation especially on weekends. Book well ahead.
3. I love credit cards – you can use their money for a few weeks, they give a great financial account of your trip, and my card comes with all sorts of perks – airmiles and medical and car insurance. You could use your card for absolutely everything you buy, the complete opposite of virtually every country we have visited so far. I also pay my complete balance automatically at the end of each month – the only way to use a credit card.
4. Rent a vehicle. If you only want to go to the towns and cities and do wine tours, public transportation may work for you. But almost everything worth seeing is off the road and not accessed except with your own vehicle. We initially wanted a 4×4 as we wanted to go over Sani Pass in Lesotho, but it was very expensive and we ended up with a VW Polo which worked great. We went everywhere we wanted to and had a vehicle to see all the game in the national parks. But be extremely careful with the rental. There is a lot of fine print to be initialed at the beginning of the rental so read it all carefully. The customer is left to inspect the car for damage and at the end, that inspection is carried out by the car rental staff who will be much more thorough than you. As they have your credit card, the sky is the limit on how much simple parking lot damage can entail.
Bas Bus is a hop-on-hop-off bus service that travels between Cape Town, Durban, Johannesburg and Pretoria stopping at all the hostels along the way. It is relatively expensive (R1700 Cape Town to Port Elizabeth) and then you have no way to get to anywhere unless you take tours or hitchhike.
A car also allows you to stealth camp and carry lots of your own food to avoid restaurant meals as much as possible.
5. South African (and Namibian) drivers are the craziest speed freaks I have ever seen. They routinely drive 20-40kms over the speed limit on roads not made for the listed speed. I try to keep my speed down to what is reasonable for the road – 80kms/hour on roads with no shoulders. They also have the least respect for pedestrians I have ever seen (maybe it's because most of the people walking are black).
Road signage is very frustrating throughout South Africa. Signs directing you to commercial businesses like hotels and resorts are very common and the same colour and shape as the signs to the National Parks, which are distinctly rare.
Motto: . Unity in Diversity
Capital. Pretoria (executive), Bloemfontein (judicial), Cape Town (legislative)
Largest city. Johannesburg
Ethnic groups. Black, Coloured, White, Asian
Government. Unitary Parliamentary/Republic
President. Jacob Zuma
Independence from the United_Kingdom_of_Great_Britain_and_Ireland – 31 May 1910
Statute_of_Westminster – 1931, Self-governance – 11 December 1931, Republic – 31 May 1961
Ethnic groups. 80.2% Black, 8.8% Coloured, 8.4% White, 2.5% Asian
Government. Unitary parliamentary/ constitutional republic
President. Jacob Zuma
Independence from the United Kingdom. Union – 31 May 1910, Self-governance – 11 December 1931, Republic – 31 May 1961, Current constitution – 4 February 1997
Area. Total – 1,221,037 km2 (471,445 sq mi) (24th); Water (%) negligible
Population. 2015 estimate 54,956,900[4] (25th), 2011 census 51,770,560
Density 42.4/km2 (109.8/sq mi) (169th)
GDP (PPP). 2016 estimate – Total $742.461 billion (30th), Per capita – $13,321 (90th)
GDP (nominal). 2016 estimate Total $326.541 billion (35th); Per capita – $5,859 (88th)
Currency. South African rand (ZAR)
Time zone. SAST (UTC+2)
Drives on the left
Why Go? Called the Rainbow Nation, people, landscape from deserts to snow-capped peaks, wildlife from penguins to lions and a varied cuisine.
When to Go (Cape Town).
April-August. Low Season for tourists but not for South Africans who have extended holidays starting in April. Ideal wildlife watching, conditions, whales on the West Coast August and September.
September-November. Spring flowers bloom; ideal weather for KwaZulu Natal beaches and Karoo exploration.
December-November. Coastal accommodation fills, busy, vibrant time to be in the Cape.
MONEY. South African Rand – ZAR. In mid-April: 1US$=13.53 ZAR; 1€=14.38 ZAR but the previous week, Zuma fired the competent economist finance minister and replaced him with an incompetent crony and the rand fell 7%. The rand is a relatively weak currency anyway so traveling in SA tends ot be a relatively cheap place to stay. The best currency to bring are US dollars.
ATMs are widespread and credit cards accepted in almost every business. Changing money is done usually in banks or foreign-exchange bureaus in all major cities.
South Africa has a value-added tax (VAT) of 14% and departing foreign visitors can reclaim much of this on goods being taken out of the country. Visit www.taxrefunds.co.za to jake a claim if the good's total value exceeds R250.
Tipping is expected – usually 10-15%.
VISAS. Travellers from most Commonwealth countries, most Western European countries, Japan and the USA are issued with a free 90-day visitor's permit on arrival. A recent change significantly affects New Zealanders – the ONLY way to get a tourist visa is in Wellington (Embassy of SA open only 3hrs per day, 3 days per week or in VFS visa offices open 5-days per week in both Wellington and Auckland. If you aren't entitled to an entry permit, you will need to get a visa before you arrive as visas aren't issued at the borders.
Extensions. Apply at the Department of Home Affairs in Cape Town, Durban, Jo'berg or Pretoria. Extensions are usually for another 30 day and can take several weeks to process.
South Africa, officially the Republic of South Africa (RSA), is the southernmost country in Africa. It is bounded on the south by 2,798 kilometres (1,739 mi) of coastline of Southern Africa stretching along the South Atlantic and Indian Oceans, on the north by the neighbouring countries of Namibia, Botswana and Zimbabwe, and on the east and northeast by Mozambique and Swaziland, and surrounding the kingdom of Lesotho. South Africa is the 25th-largest country in the world by land area, and with close to 56 million people, is the world's 24th-most populous nation. It is the southernmost country on the mainland of the Old World or the Eastern Hemisphere. About 80 percent of South Africans are of Sub-Saharan African ancestry, divided among a variety of ethnic groups speaking different Bantu languages, nine of which have official status. The remaining population consists of Africa's largest communities of European (white), Asian (Indian), and multiracial (coloured) ancestry.
South Africa is a multiethnic society encompassing a wide variety of cultures, languages, and religions. Its pluralistic makeup is reflected in the constitution's recognition of 11 official languages, which is among the highest number of any country in the world. Two of these languages are of European origin: Afrikaans developed from Dutch and serves as the first language of most white and coloured South Africans; English reflects the legacy of British colonialism, and is commonly used in public and commercial life, though it is fourth-ranked as a spoken first language. The country is one of the few in Africa never to have had a coup d'état, and regular elections have been held for almost a century. However, the vast majority of black South Africans were not enfranchised until 1994. During the 20th century, the black majority sought to recover its rights from the dominant white minority, with this struggle playing a large role in the country's recent history and politics. The National Party imposed apartheid in 1948, institutionalising previous racial segregation. After a long and sometimes violent struggle by the African National Congress and other anti-apartheid activists both inside and outside the country, discriminatory laws began to be repealed or abolished from 1990 onwards.
Since 1994, all ethnic and linguistic groups have held political representation in the country's democracy, which comprises a parliamentary republic and nine provinces. South Africa is often referred to as the "Rainbow Nation" to describe the country's multicultural diversity, especially in the wake of apartheid. The World Bank classifies South Africa as an upper-middle-income economy, and a newly industrialised country. Its economy is the second-largest in Africa, and the 34th-largest in the world. In terms of purchasing power parity, South Africa has the seventh-highest per capita income in Africa. However, poverty and inequality remain widespread, with about a quarter of the population unemployed and living on less than US$1.25 a day. Nevertheless, South Africa has been identified as a middle power in international affairs, and maintains significant regional influence.
Namibia/South Africa Border. Vioolsdrift, Namibia – They have a standard entrance and exit form. I asked for my stamp on two specific pages. After 5 minutes, a lecture on not having enough pages and that I should get a new passport, he stamped on my 3rd best page.
Noordoewer, South Africa was one of the most intense borders I have ever crossed, maybe because we were on a bus (if in cars, it is apparently fast). After getting a stamp at Immigration (this officer too was very unwilling to stamp in some small spaces but eventually used a good space. At the police station, we handed in our passports. Then we all had to go down to the bus and all luggage was completely opened and searched (mine was not). They then handed out the passports by calling names. Mine was the last. Then they boarded the bus and checked all carry on luggage. Maybe it is all well that there is an intense search somewhere.
CAPE TOWN (pop 3.1 million)
South Africa's 'Mother City' has Table Mountain draped in cascading clouds, its flanks coated with unique flora and vineyards and it base fringed by golden beaches. Few cities can boast such a wonderful national park at its heart. Striking street art and the Afro-chic decor of countless guesthouses make it a good-looking metropolis. Above all, it's a multicultural city where nearly everyone has a story to tell.
GREEN POINT & WATERFRONT
I stayed at Atlantic Point Hostel, a great hostel near the waterfront. It is relatively expensive but has a good breakfast and excellent facilities.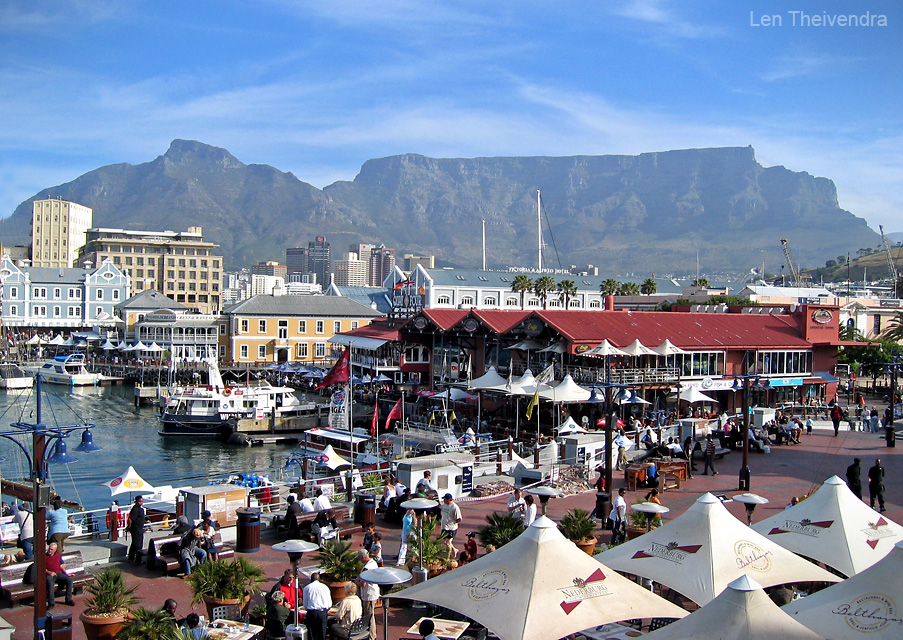 Robben Island & Nelson Mandela Gateway. Used as a prison from the early days of Vereenigde Oost-Indische Companie (VOC); Dutch East India Company) right up to 1996, this Unesco World Heritage Site is preserved as a memorial to those, such as Nelson Mandala, who were incarcerated here.
Ferries leave at 9am, 11am,1pm and 3pm. In peak times, tickets sell out days beforehand. Reserve well in advance via the web. The packed guided tour allows 2 hours on the island plus a 30-minute boat ride in both directions and a 45-minute bus ride around the island.
Tours depart from the Nelson Mandela Gateway beside the clock tower at the Waterfront, where there is also a worthwhile museum.
Victoria and Alfred Waterfront or just the Waterfront, is a tourist-orientated precinct with masses of shops, restaurants, bars, cinemas and cruises of the harbor for great views of Table Mountain from Table Bay.
I went on April 16 on the 11am ferry. The tour started out with a talk by a former prisoner where we saw general cells and then Block B where Nelson Mandela was locked up for 27 years. The guide was excellent. Then we all boarded a bus for a tour of the island and then returned on the ferry.
GARDENS & AROUND
Table Mountain National Park. This park stretches from the 1086m-high flat-topped mountain to Cape Point. The top can be easily accessed by the Table Mountain Aerial Cableway but there are lots of walking trails up too. To avoid the "table cloth" – a dense cloud that often obscures the fabulous views, the best visibility and conditions are generally early in the morning or in the evening.
Hikes. There are hundreds of hiking trails.
Day Hikes. 1. Plattsklip Gorge. The most straight forward route is steep and fully exposed to the sun. Takes 2 hours. 2. Pipe Track. Less of a slog but takes twice the time. 3. Lion's Head. Climbs to the Upper Cable station and then to Maclear's Beacon, the highest point on the mountain. Takes roughly an hour. Two popular routes from Kirstenbosch Botanical Gardens 4. Skeleton Gorge. Has some sections with ladders. 5. Nursery Ravine.
Entrance fees must be paid for the Boulders, Cape of Good Hope, Oudekraal, Silvermine ad Tlkai sections of the park. Remember that at 1000m, conditions can become treacherous and it's easy to get lost.
Overnight hikes include the 2-day/one-night, 33.8 Cape of Good Hope Trail (has to booked and includes accommodation) and the five-day, 80km Hoerikwaggo Trail (can be done freely) running from Cape Point to the upper cable-car station.
On April 17, I went with Toby and Mark to hike Table Mountain on a beautiful cloudless day. It was Easter Monday and there were lots of hikers. All the reasonable hiking is on the north end of the mountain. We went to Kirstenbosch Botanical Gardens to access the Skeleton Gorge route. There was a 60ZAR entry to the gardens and we walked around for about an hour to get a brief look at these spectacular gardens. With 9000 of South Africa's 22,000 plants growing here this 36-acre botanical garden is among the most beautiful in the world.
The trails are all beautifully constructed. Skeleton Gorge is a nice ascent as the entire trail is in the shade. It took about 1 1/2 hours to where the trail branches – straight ahead to go past the two reservoirs on top of the mountain or right to Maclear's Beacon. It is still a significant climb to get up there. But the views along this portion of the walk are outstanding especially south along the entire length of Table Mountain all the way to Cape of Good Hope and the ocean on the east side of the peninsula.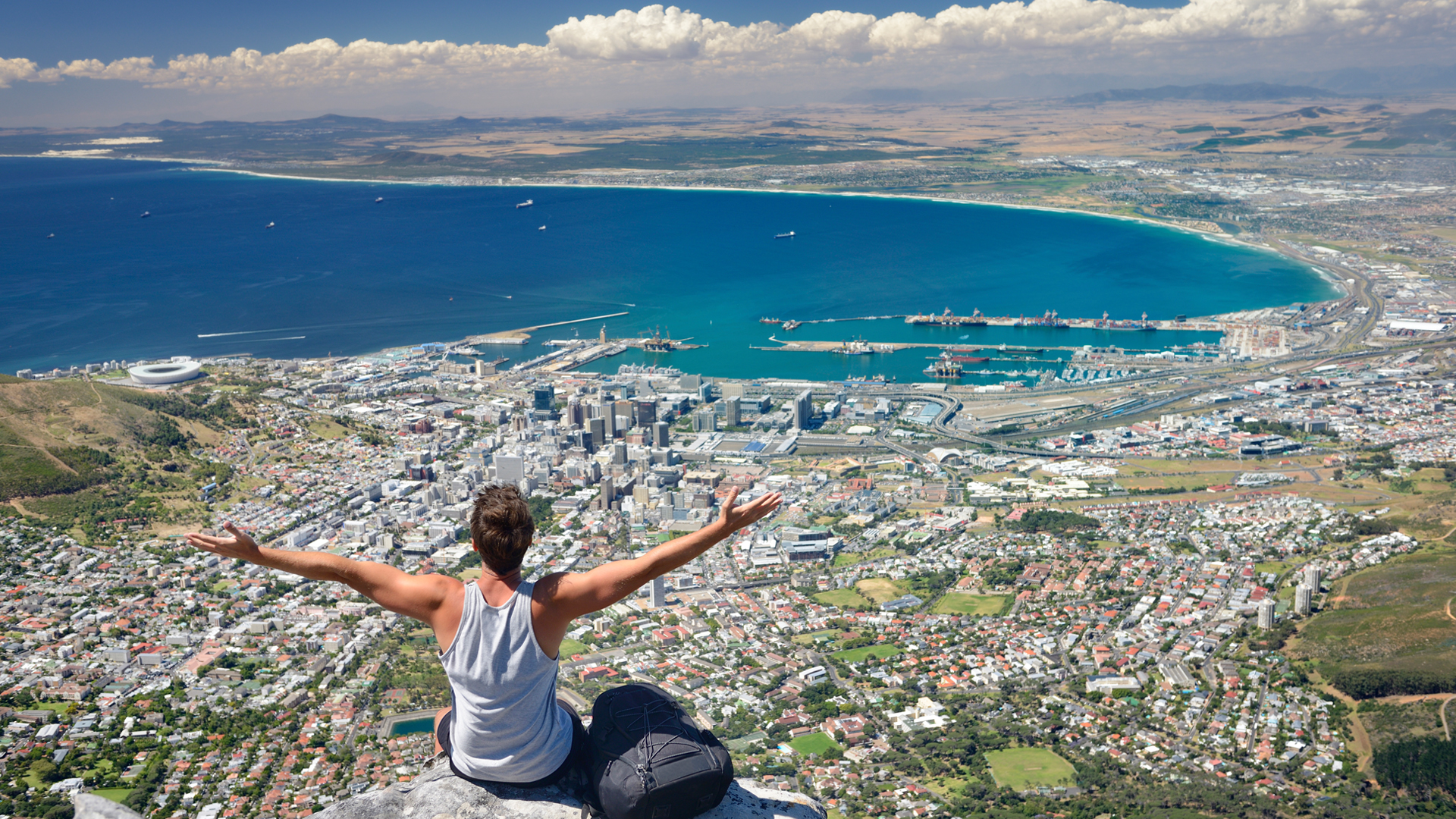 It is then a relatively flat walk towards the top of the cableway. Just before there, in a small dip, the only way down from the cableway part of the mountain is via Plattsklip Gorge. It is a steep descent and I would recommend doing the mountain in this way as this is so sun exposed and hot. When we reached the road, we hitchhiked to the Gardens area on Kloot Nek Rd and then diagonally across this area of the city to go to the Sixth District Museum (close on Easter Monday). It was a short walk to the Eastern Food Bazar (96 Longmarket St) where I had eaten the previous two nights – the food is so good and cheap and full of locals. For the third meal, I had the chicken tikka masala (big bowl of white rice, salad, dhal and a big portion of chicken and sauce for 50ZAR and garlic naan (14ZAR). We went our separate ways and I walked back to Atlantic Point hostel.
CITY BOWL & BO-KAPP
District Six Museum. This emotionally moving museum tells the story of District Six, a once multicultural neighbourhood that was destroyed by forced evictions in the 1960s and 1970s. Most township tours stop here.
Long Street. An essential element of a Cape Town visit, it has lots of shops, bars and clubs.
ATLANTIC COAST has spectacular scenery and soft-sand beaches but the water – flowing straight from the Antarctic – is freezing.
Clifton Beaches. Almost always sheltered from the wind, these four linked beaches are Cape Town's top sunbathing spots. No 1 and No 2 are for models and narcissists, No 3 is the gay beach, and No 4 is for families.
Camps Bay Beach. Has the spectacular Twelve Apostles of Table Mountain as its backdrop. Popular and crowded on weekends but often windy with strong surf. Surfing is possible everywhere with the best surf on the Atlantic side. Mulzenberg is the top spot for novices and the only place that rents out boards and wetsuits.
SOUTHERN SUBURBS
Begin with the bohemian areas of Woodstock and Observatory, then move through to Rondebosch, Newlands and wealthy Constantia, home to South Africa's oldest wine estates.
Groot Constantia. Simon van der Stel's manor house, a superb example of Cape Dutch architecture is maintained as a museum. Large beautiful estate.
Dangers. Cape Town can instil a false sense of security but common sense should prevent most problems. There is tremendous poverty on the peninsula and 'informal redistribution of wealth' is common. The townships on the Cape Flats have an appalling crime rate. Swimming at any of the Cape beaches is potentially hazardous, especially for those inexperienced in surf. Swim only in patrolled areas.
WESTERN CAPE
DAY 1. Cape Town to Cape L'Aguhlas
On the morning of April 18, we picked up our Budget Rent-a-Car VW Polo and decided to first drive around Table Mountain. It is a gorgeous drive with beaches, the mountain, and lots of cliffs and small villages.
Table Mountain NP. To see the Cape of Good Hope, you enter this park and drive a dead-end road to the cape (R130). It is not possible to buy a Wild Card at the entrance gate, only inside at information and they wouldn't apply the R130 towards the Wild Card so pick up your Wild Card online or in Cape Town.
We made a detour towards Cape Town to get our Wild Cards, that for one fee, covers the conservation fee of all SA and Swaziland National Parks. It was R2210 for me and 3400 for the both of them as they were able to be a couple. I was concerned as I have already paid by conservation fees when I booked my time in Kruger. Refunds are possible and it was only going to work if all three of us had passes then we could go to lots of national parks.
Winelands. The Boland stretches inland and upwards from Cape Town. Vineyards on 1500m mountains. Has cities of Stellenbosch (Museum, St Mary's on the Braak Church, VOC Kruithuis), Franschhoek (Huguenot, French restaurants), and Paarl.
Overberg. The Landberge Mountains to the east of Cape Town are crossed by the 1. N2 over the scenic Sir Lowrey's Pass. The main town on Route 2 is Swellendam that has access to the Little Karoo and is on route to Garden Route. We drove this way for some great mountains and rocky landscapes. The view from the pass showed all of Table Mountain with some of the sky scrapers of Cape Town visible. 2. Rte 44, slower via Strand, a beautiful coastal drive. Towns on 44 include Hermanus with southern right and humpback whales between June and November best seen from cliff paths to Gearing Point and Kraal Rock and 3. Route 62. More northerly, has mountain passes and cultivated valleys. Towns include Montagu (24 national monuments, some art deco) and Oudtshoorn (ostrich capital of the world, meerkats, Cango Caves).
CAPE AGULHAS NP. The most southern point of Africa where the Indian Ocean meets the Atlantic. We arrived just after dark, drove the 1km past the light house to the boardwalk at the monument. We slept on the boardwalk just in front of the monument during a heavy dew night. But it was crisp and clear with great stars and constant surf.
DAY 2. Cape L'Agulhas to George.
We woke up well before sunrise at 7 and made a detour on an end road down to the ocean at Aniston. The Waenhuiskrans cave there is accessible at low tide (it is large enough to hold an ox cart, I presume with the oxen attached). We walked along the sand track (4×4) but there were no signs showing the distance and it was high tide anyway, so the cave was not accessible.
De Hoop Nature Reserve. Has coastline, dunes, zebra, antelope and the 5-day Whale Trail. We ended up Aniston because we were looking for a road on the map that was a southern access point to De Hoop. But there was never a sign (and the gravel roads are designated 4X4). We encountered the western access later.
BONTEBOK NP. Just outside Swellendom, it lies at the foot of the Langeburg Mountains and is bordered by the Breede River. This is the smallest of S Africa's national parks but is diverse with part of the Cape Floral Kingdom (Unesco World Heritage) and one of the largest remaining 'renosterveld islands' with several endemic plant species. Surrounded by large swathes of agriculture that have destroyed all the indigenous vegetation, it is a key refuge for rare plant species. Fynbos flourishes here. There are also many aloe speciosa (tilt-headed aloe) with a small palm looking trunk and a succulent clump of branches on the top. There were once only 17 bontebok left and now there are over 200 in the park, the most its area can accommodate. Other common critters are red hartebeest, grey rhebok, several smaller mammals, reptiles and 200 birds species. There are 5 hiking trails up to 9.2kms in length, angling, swimming, canoeing and camping facilities.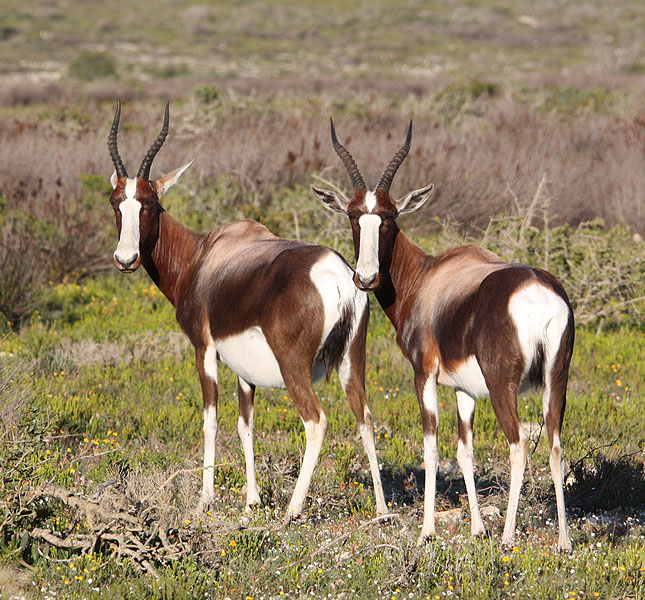 We registered (R100, included in Wildcard) and drove down to the Die Stroom picnic area on the shore of the river. The shaded picnic table on the large balcony had a chain "Only for private use", so we ate there. It has a built-in braai area and kitchens. While Mark had a swim, Toby went into the open Women's washroom and had a hot shower. I plugged in my computer, charged it and wrote this. We went on the loop route through the park seeing first 2 zebra on the main road and then decided to take the "Optional High-Clearance Route", and saw 6 bontebuck (three very close) and 9 Reebok. The road was a little rocky but this small VW handled it fine.
Swellendam. After the park, we got gas and drove through the town. There are many old gorgeous homes (many B&Bs and guest houses), churches and buildings.
It was then 120kms to Mossel Bay through rolling farmland. As it is the fall here, all crops had been harvested.
MOSSEL BAY. Has seals and dolphins, whale watching, and *shark-cage diving. It is the start of both the Garden Route and then 4-day Oystercatcher Trail.
Downtown was a nondescript collection of a few restaurants. We hit 2-for-1 pizza and ordered four, all heavy on meat. With Toby and Mark, there is little doubt that it would be eaten. After dinner in Mossel Bay, we started on N2 to find a picnic table and a place to sleep. But there are no picnic tables on this section of the road and we ended up sleeping on some grass in front of a golf course.
DAY 3. George to Plettenberg Bay and Robberg Nature and Marine Reserve
GARDEN ROUTE. The Garden Route is a 300km stretch of road from Mossel Bay in the west to Port Elizabeth in the east. It is separated from the Little Karoo by the Outeriqua and Tsitsikamma Mountains and has great beaches and ancient indigenous forests. George is the largest town on the Garden Route with no reason to stop other than shop.
GARDEN ROUTE NP is divided into the Wilderness and Tsitsikamma Sections with lakes, rivers, wetlands, estuaries and beaches. Knysna is on a lagoon surrounded by ancient forests. This is all very developed land with a row of houses and subdivisions on both sides of the road. The beach is only accessible easily from a few access points, at Wilderness NP, Goukamma and Robberg.
WILDERNESS SECTION. A short trail leads down to a huge beach stretching for miles in either direction.
GOUKAMMA Nature Reserve and Marine Protected Area. We drove down to the ocean 20kmw SW of Knysana, to this magnificent beach stretching to the west and at the point a large collection of jagged rocks, slanted so they project a face to the beach. We walked up to the viewpoint on the Buffalo Bay Trail, a nice hike up to a high point with a bench next to a transmission station. There are panoramic views down miles of beach and all the rocky points in front of us. Walk around the transmission station and start the loop trail (which is what Mark and Toby did while I returned and read).
PLETTENBERG BAY is a resort town with beaches, mountains and forests.
We slept in the picnic area at Robberg.
DAY 4. Plettenberg Bay to Storms River.
ROBBERG NATURE and MARINE RESERVE. Nine kms SE of Plettenberg, this 4km peninsula has a rugged coastline of cliffs and rocks and great trails, all 3 are loop hikes: 1. Gap Circuit – 2.1km, a short circular route to the beach. 2. Witsand – 5.5km undulating along the northern ridge above the seal colonies and 3. Point Circuit – 9.2km (4hrs), continues on from the Gap Circuit along the northern ridge to the Point, the end of the peninsula and then back along the rocky shoreline to return to the Gap.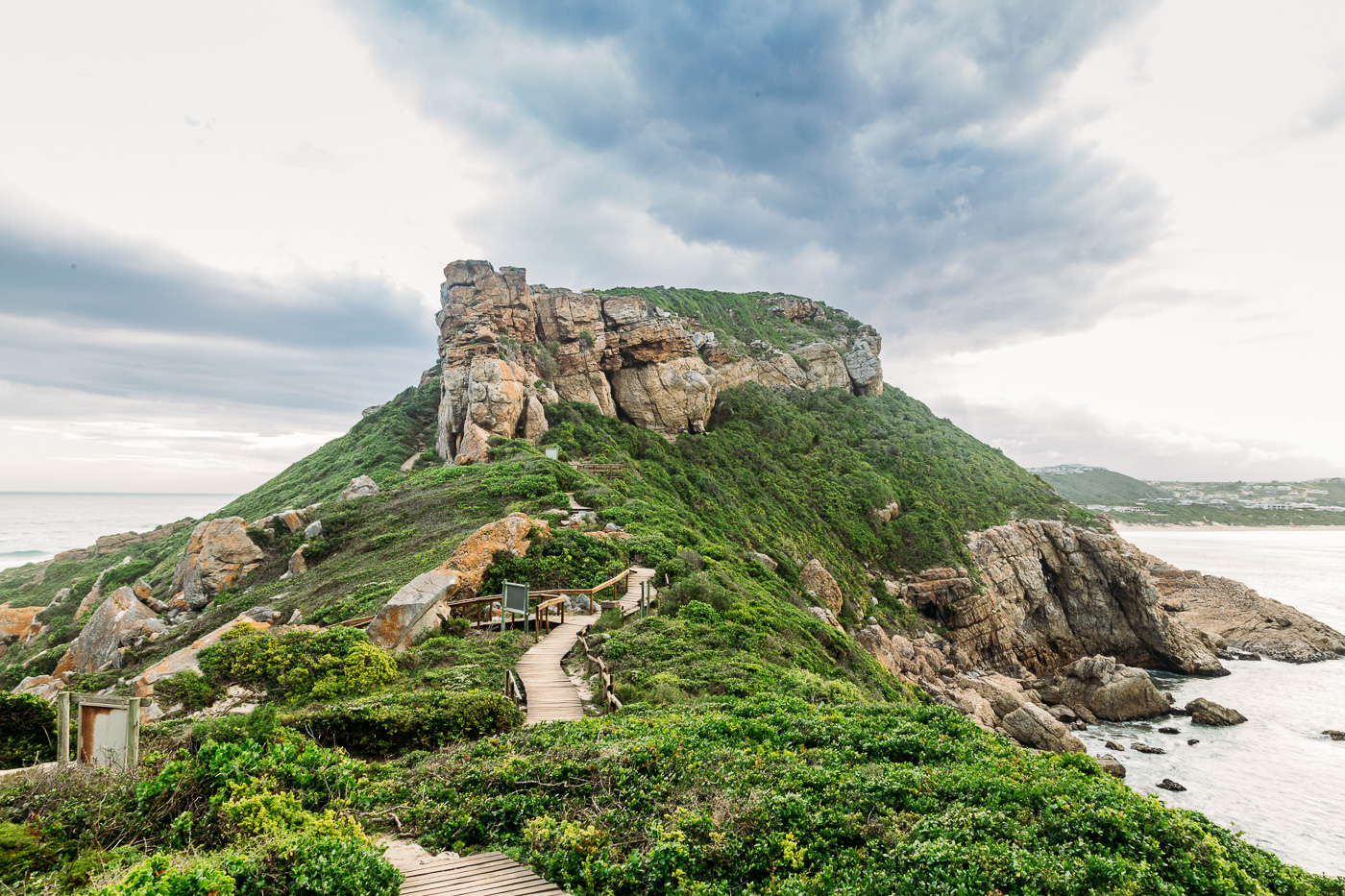 After sleeping illegally in one of the picnic areas, we were off just after 7 just in time to miss sunrise. We did the Point Circuit trail and went around the island half way down the peninsula. The excellent trail had incredible variety and interest: rocks, sand, beach, boulders and lots of nicely constructed trail – stairs, boardwalk, and cement. Cape fur seals live around the island with the main rookery on the north shore. Seals were swimming along the coast and several hundred were on the SE corner fishing. We walked down the rocks until we got very close to this group, but four big waves washed over where we stood. We made a detour in the middle of the return leg across the tombolo to the island and the small loop hike there.
This is one of the world's great day hikes and highly recommended.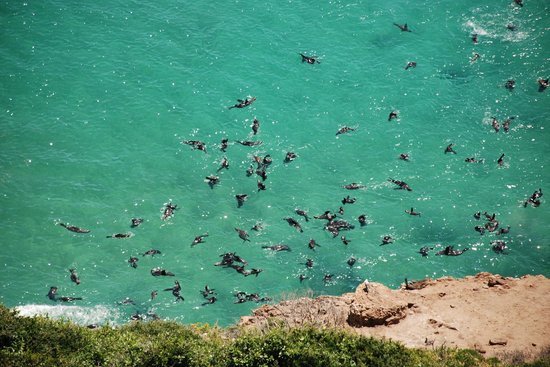 We made a detour bypassing the N2 and Bloukrans Bridge to go to one section of the park and drove over Bloukrans Pass. We camped at Dijembe Backpackers in Storms River town and cooked our own dinner. This is a BasBus stop. For R1700, one German fellow had bus rides between hostels from Cape Town to Port Elizabeth, making it relatively expensive transportation. And they can't get to local sites without going on a tour or hitchhiking.
DAY 5. Storms River to Humansdorp
EASTERN CAPE
Has desert and tropical forests, stunning coastlines and mountains. It is much less wealthy than West Cape, less developed and inhabited by the Xhosa culture.
Tsiitsikamma Section of Garden Route NP. This covers 80kms of coast between Plattenberg Bay and Humansdorp at the foot of the Tsitsikam Mtns. It is cut by rivers that have carved deep ravines.
Bloukrans River Bridge has the world's highest bridge bungee jump, 21kms west of Storms River. We stopped at a viewpoint to see the bungy jumping. It is not possible to walk across the bridge.
Storm River Mouth. Five kms west of the town of Storms River, this is 10kms off the N2 down at the ocean. There is a board-walk trail in the forest above the ocean that goes to a suspension bridge over the Storms River. It is a lovely gorge but there is no hiking along the river. The hikes include one up to a viewpoint on the other side of the bridge and the Waterfall Trail, which goes along the coast and meets the Otter Trail.
Otter Trail. On the way to Storms River Mouth is the start of this trail. 43kms long, it hugs the coastline, usually taking 5 days. Accommodation is in four huts, often booked up to a year in advance.
We walked the first 1½ hrs of the trail to the first creek and a waterfall on the ocean from the Otter trailhead about 10kms from Storms River Mouth – it is basically a long descent to the ocean to meet the trail we should have taken. Toby took the wrong turn home and walked the 5kms to Storms River Mouth and back (the Waterfall Trail), ran most of the way, and arrived after an hours wait, in a complete lather. We learned later that the "Waterfall Trail begins at Storms River Mouth and follows the coast basically flat all the way. Oh well.
We camped in a field in lush weeds, it was very dewy. The boy's inflatable mattresses have not been inflatable for months, so they had a comfortable sleep.
DAY 6. Storm's River to Graaff-Reinet
ADDO ELEPHANT NP. Has more than 450 elephants, zebras, black rhinos, Cape buffaloes, leopards, lions, birds and the flightless dung beetle. One must have your own vehicle to drive in the park.
The town of Colchester is 72kms north of Port Elizabeth and the main entrance to the south end of Addo Elephant Park. The park has seven sections. Six and Seven are east of Colchester, along the ocean and low-clearance drives. North of here is the Colchester section of the park and the best entry point to the part of the park accessible to low-clearance vehicles with Matyholwent Camp the camp at the entrance gate. There are several loops to drive: Yukani, Mbotyi, Ngulube, Harvey's and then the Southern Access Road and the Southern Gate. South Africa road signage is very poor and we entered the park at Addo Main Camp at the north end of this section of the park and drove via Marion Baree Waterhole to the Mpenzi loop and Hapoor Dam. Gwarrie Pan at the north end had many elephants. Then we drove the Gorah Loop and finished at Donkrag Dam to the exit of this part of the park.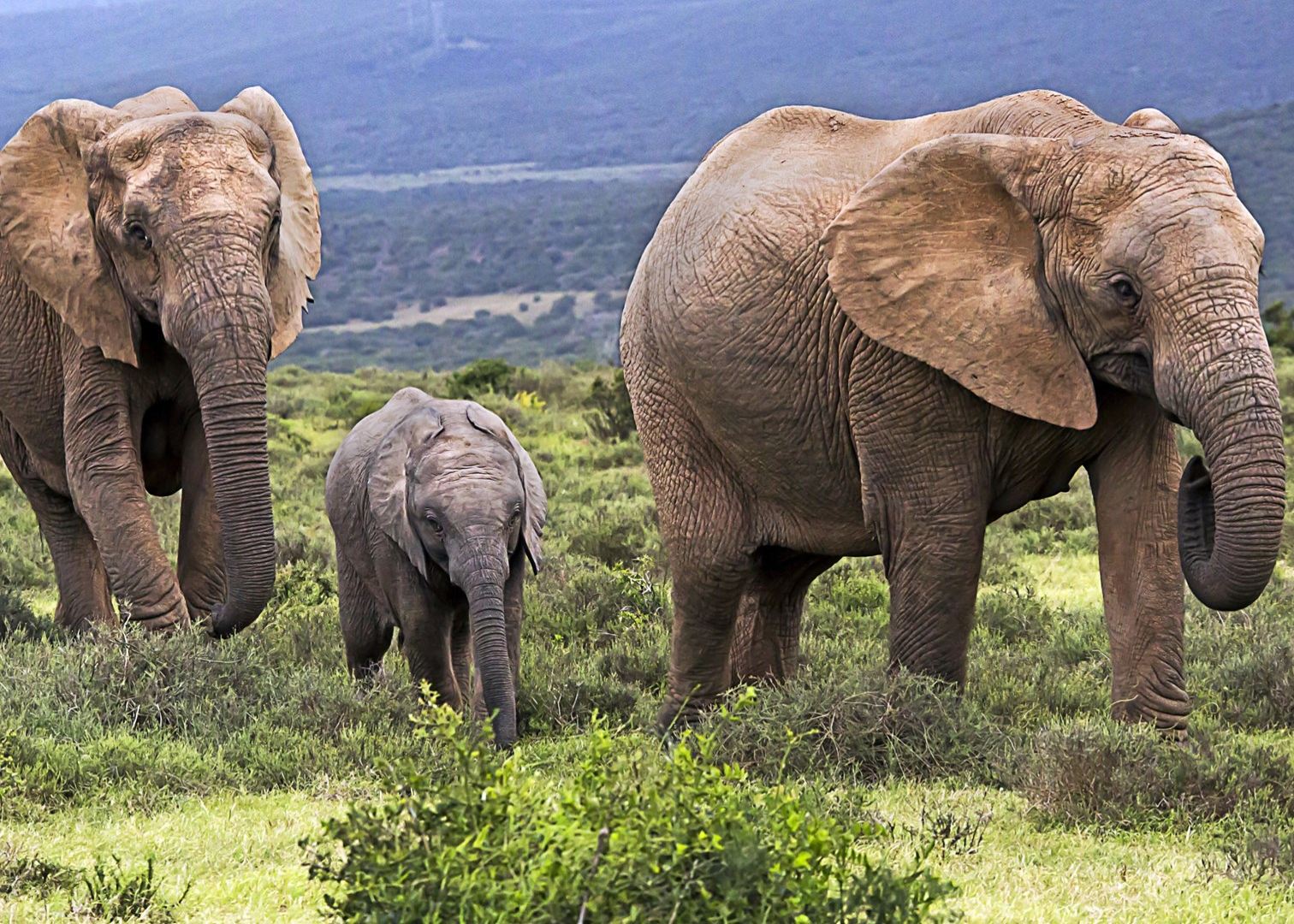 We saw at least a hundred elephants, some very close, a water buffalo, many warthogs, zebra, kudu and several kinds of antelope.
West and slightly north of Addo Main Camp are four sections of the park suitable for 4×4 vehicles only: Nyathi (Nyathi Rest Camp above a water hole), Zuurberg (guided horse trails only), Kabouga and Darlington both entered via Narine Bush Camp or Kirkwood. Birding is a popular activity in these sections. There are three private lodges in the park and 8 rest camps.
These are all towns/cities and places past Port Elizabeth along the coast, but we turned north here to go to Addo Elephant Park and continue to Camdeboo NP. The road is inland from the ocean except for a few beach accesses, so we didn't see this part of the coast.
Port Alfred. Picturesque river flowing through massive sand dunes.
Kowie Nature Reserve. Walking trail.
Great Fish Point Lighthouse. 25kms east of Port Alfred.
East London. Large bay curving around huge sand hills.
Hogsback. 1500m up in the Amathole Mountains. Mountains and forested valleys. Walks.
Wild Coast. 350kms from Chintsa to Port Edward. Xhosa people.
We had a 3hr drive on R63 through the Karoo, a large flat plain with mountains to the north and bush camped at a picnic table site with huge views to the west.
DAY 7. Graaff-Reinet on the way to Lesotho
CAMDEBOO NP
Surrounding the town of Graaff Reinet this park has many animals but real draw is the spectacular geological formations – the Valley of Desolation is beautiful with piled dolerite columns. Dolerite is a lava ironstone with a large accumulation on top of a long road climb. The "valley" is a group of formations separated from several view points by a valley full of angular rocks. We hiked the Craglizard Trail, a 1.2km loop trail that goes to more viewpoints.
Toposcope. On the road up to the Valley of Desolation, climb up to this viewpoint for great views of Graaft-Rienet, the dam and all the townships across the highways against the mountains.
We saw ostrich, zebra and a large male kudu at the top of the Craglizard Trail.
We then drove through the wildlife section of the park and saw springbok, other antelope and wildebeest. After lunch in Graaff Reinet, we continued the journey driving towards Lesotho. We camped down a small side road about 60kms from Lesotho.
South Africa/Lesotho Border
There are no issues here for us and most Westerners – simply a matter of waiting in line for passport stamps on each side, about 40 minutes. They even stamped in the little places I asked them to. Baggage was not checked. Check the Lesotho – The Trip post for details – the drive to Sani Pass is one of the most spectacular in the world.
DAY 11. Because we rented a 2WD vehicle, we returned the way we came through NE Lesotho. Four SA motorcyclists and the Lesotho border guards said we could drive down Sani Pass in the VW Polo but others said we would not survive without some damage to the car. We crossed back into SA at Caledonspoort to go to the Northern part of the Drackensbergs.
DRAKENSBURG MOUNTAINS. These are jagged tabletop peaks that form the border between Lesotho and S Africa. There are many San rock art sites and rain and snow in winter. With great hiking, best April to July, the hikes require permits, allow no fires and have no accommodation. Royal Natal and the Central Bergs are listed as Unesco World Heritage Sites.
GOLDEN GATE NP. Borders NW Lesotho. This park has great sandstone monoliths and hiking. Fouriesburg is 12kms north of Caledonspoort and surrounded by wild, craggy mountains. The largest sandstone overhang in the S hemisphere is at Salpeterkrans. The highway here traverses through the park and we did not stop anywhere.
ROYAL NATAL NP. In the northern Drakensbergs, this park accessed from the town of Bergville.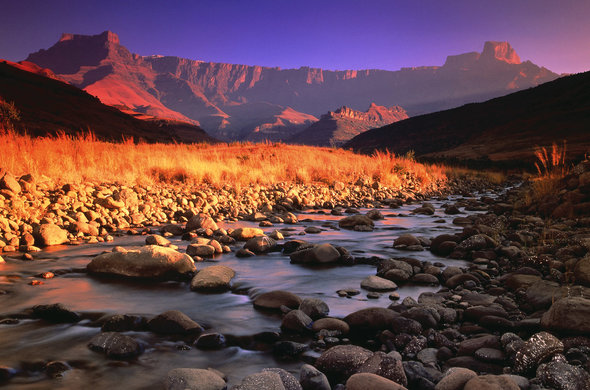 It is famous for the Amphitheatre, an 8km wall of cliff and canyon from below or on top. Tugela (spelled Thukela in the official brochure) Falls, 850m in 5 stages, is supposedly the second highest waterfall in the world (but I don't think 5-stage waterfalls count). The trail, although advertised as the Tugela Waterfall hike in the Lonely Planet, actually goes to the Tugela Gorge. It is an easy gentle climb (4-5 hours return) to the entrance to this impressive sandstone canyon that ends at the Tunnel, a 100m long narrow slot canyon that is easy to walk with a short wade in the middle. A chain/log ladder ascends a cliff before the Tunnel and then the "trail" scrambles up a narrow gully requiring using all the tree roots and steel pins driven into the rocks to ascend. Descend to the end of the tunnel and great views of the Amphitheatre. Mark continued for an hour more to see the waterfall which was not very impressive as it had little water. However the Amphitheatre was spectacular from this vantage point. The end peaks of the Amphitheatre are the Eastern Buttress (3,011m) and the Sentinel (3,165m), part of the Western Buttress. Named peaks that form part of the Amphitheatre are Devil's Tooth, Tooth Pick and Inner Tower. Other peaks in this park are Mount-Aux-Souces (3,285m) and Mount Amery (3,143m). This park also has several San rock art sites.
We slept on the nice grass outside the gates of a farm next to the road.
DAY 12. CENTRAL BERG – Champagne Valley Peaks include Giant's Castle (3312m), Monk's Cowl (3234m), and Champagne Castle (3377m). The town of Winterton is the gateway town. This part of the Bergs has 26 San rock art sites. The best known is at the Kamberg Game Pass Shelter, a 3-hour return hike in the Giant's Castle part of the park.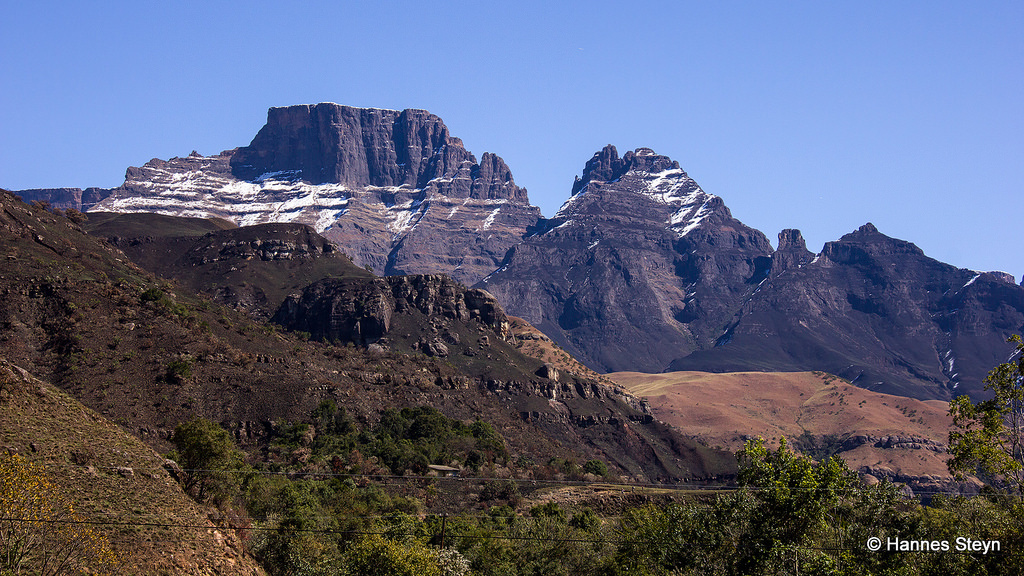 We had relatively limited time so only hiked to Sterkspruit Falls. The forest trail eventually opens up to great views of all the big peaks but only the Monk's Cowl appeared through the cloud. The waterfall is quite beautiful as it falls over the centre of a large circular wall into a lovely pool.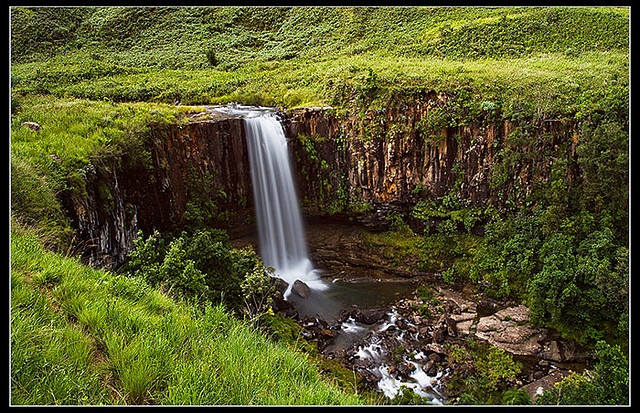 uKhahlamba-Drakensberg NP. Basalt summits and buttresses. Unesco World Heritage. We didn't go here.
Southern Berg. Best accessed from Underberg. Access to Sani Pass in Lesotho.
After the waterfall hike, we drove north to enter Swaziland (Day 12). The border crossing from Swaziland was quick and easy. We slept at Kruger Viewpoint Backpackers in Komatipoort, SA (R220 for a dorm room). After shopping for food the next morning we entered Kruger at Crocodile Bridge Gate just north of Komatipoort. I had asked for directions twice in Komatipoort, but even the town is only 10kms from the park, none of the six of so guys knew of the park of the Crocodile Bridge Gate.
DAYS 13-16. KRUGER NATIONAL PARK. The 128km drive to Satara can be done on nice pavement all the way. We immediately took a loop drive on hard-packed dirt to the east (we had been told there were a lot of rhinos here) but we saw little game other than a cheetah. Rejoining the main road, we saw many animals: 3 hippos next to a bridge and dam, 4 giraffe, 12 elephant, 2 water buffalo, 3 hyenas very close, zebra, 6 lions, kudu, springbok, and several different kinds of antelope. It rained all day but we were very happy with all the critters we saw despite the weather.
Satara Rest Camp. May 1,2. Cost of campsite per night in Kruger – R367 for 3 people (287 for 2 plus 80 for third person). Conservation fees per day in Kruger – R304. We arrived at 16:00, registered for our campsite and received the disclaimers for each of our activities. The campground was a surprise – no tables, random campsites and camp kitchens with only a hot plate and sinks (no pots or utensils). I ate in the restaurant and the boys cooked (after buying a pot).
We went on 3 "safaris" at Satara: night drive – starting at 8 (R330), we saw 9 lions (all on the road keeping warm, 2 males and pride of 7 females and youth); sunset drive – starting at 5pm (R280), this was mostly in the dark, we saw little: 1 elephant, a hippopotamus out of the water, giraffe; The next morning, Mark and I had a morning walk starting at 5:30am (R505). Again this was disappointing but saw a herd of about 25 cape buffalo (these are easily the most dangerous animals in the park as the males especially are very aggressive) and 6 giraffe plus the exceedingly common impalas. Animals don't react to people in a vehicle but get quite skittish to people on foot. A sunset drive was also disappointing.
In retrospect, I would not pay for any of the driving safaris again, but simply drive my own car on the side roads around each rest camp. The guides have no way of communicating and have little more idea where the animals are than you do. Buy 1-2 spotlights that plug into the cigarette lighter. Because of all the recent rain, game was not very plentiful around Satara. There had been a significant drought that ended in December when half of all the hippos died and many animals, especially rhinoceros, migrated south where it is wetter.
The next day we left Satara at 1pm and took almost 5 hours to drive to Pretoriakop Rest Camp for another two nights. On the drive, we saw 2 rhinos, giraffe and elephants.
Pretoriakop Rest Camp. The morning walk here was cancelled as the second ranger could not access his rifle that was locked in a safe, but we were given a complimentary drive. It was great as we followed 2 huge male lions on the road for about 15 minutes watching them scent all bushes about every 30m. There was also a solitary cape buffalo (after they are past their reproductive capacity, older males often leave the herd and spend a solitary life), elephants and giraffe. On the sunset drive, there were many hyena on the road. They live in the culverts under the roads and we saw at very close range at least 4 females each with 2 cubs. We also saw 3 white rhinos, but the highlight of the entire Kruger experience was a leopard that had dragged an impala up into the tree and it lay sleeping on a branch above its kill. It was incredibly relaxed with its long tail and both hind legs dangling down. It stood to reposition itself and now we could see his head and face much clearer.
Two kittens were playing in the bushes at the base of the tree. Leopard don't have confluent spots but two half circles of brown. It was a great day – not only did I see all the Big Five but spent the day with a lovely English woman, a physiotherapist working in Hong Kong for five years.
DAY 17. Kruger NP to Pretoria
BLYDE RIVER CANYON. I left Kruger the next morning and drove to the Drakensberg Escarpment via Graskop (pop 2,000). The escarpment is not part of the Drakensberg Mountains, but farther north. Shortly after Graskop, the Big Swing is a usual bungie with a zip line and a swing from a rope suspended across a narrow canyon. A loop road leads to the Pinnacle (R10), an ok single square rock tower, God's Window (R50) with 300 steps leading to several viewpoints in a rainforest looking south down a huge panorama of patchwork tree plantations and clearcuts and Wonderview, a free viewpoint with an identical view to God's Window. The loop returns to R534 and follows the Treur River with a shallow canyon rimmed with very eroded quartzite with many vertical fissures. A rough dirt road led down to a restaurant on the river. Take a trail from here to Fan Falls. It is several more kilometres to Blyde River Canyon which starts where the Treur River meets the Blyde River at Bourke's Luck Potholes. The Treur River drops over several lovely cascades into a deep sandstone canyon with the potholes at the confluence. Potholes are formed when stones swirl in rapid current. These are heavily eroded with arches and hidden passages. The downstream canyon is deep and narrow. Lowveld View (free) has nice views down into the canyon, now with sloping, tree-covered walls cut with a few bands of colourful sandstone cliffs. The next viewpoint, the Three Roundavels (R20), has views across to several rock buttresses and a reservoir at the end of the canyon. All these viewpoints have several handicraft stalls with some very nice stuff. I would have loved to buy some of the bowls but they would be impossible to transport.
I then had a five-hour drive to Pretoria via Belfast and the N4. On the way I picked up two sets of hitchhikers. These black women had never hitchhiked with a white guy before and both offered to pay me for the transport.
DAY 18. PRETORIA (pop 1.65 million) I arrived in Pretoria a day earlier than expected and went to the backpackers (1322 Backpackers International) in Hatfield on the east side of Pretoria where I had a reservation for May 6. But they were fully booked and I slept in my car. 1322 is a very nice place with an accommodating owner/manager. Virtually everyone here was black and it was fun watching them try to swim in the pool (few black people can swim at all; black men seem to have dense muscles and floating is difficult).
Pretoria is 50kms from Jo'berg, slower and more old-fashioned with gracious old buildings.
Voortrekker Monument. the building is huge stone cube with great panoramic views of Pretoria, surrounded by a stone wall carved with 64 wagons in traditional defensive Laager.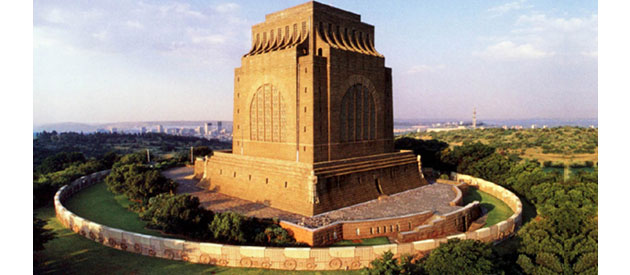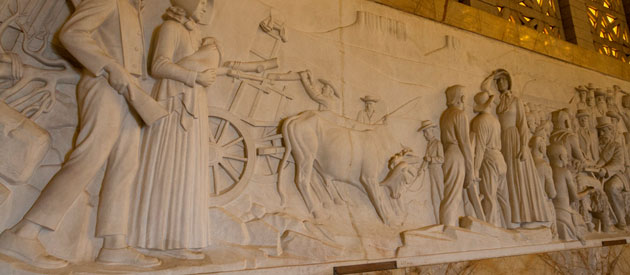 The inside walls are lines with bas-reliefs of the Voortrekker story cut in lovely Carrera marble. I mooched in on a tour where the guide gave a wonderful tour of the panels and I relearned much of the early history of South Africa. Outside the cube has a 2000kg statue of a Boer woman with two children and four of the famous Boers involved in the trek. Outside 5 prop planes put on a great airshow.
Melrose House. Home of British commanders and a splendid mansion. I didn't go here.
DAY 19.
JOHANNESBURG. (pop 3.7 million) I left Pretoria for Johannesburg early to return my car to Budget and go in for the day to see the Apartheid Museum. Even though I was told in Cape Town to not bother cleaning the inside or outside of the car, they wanted to charge a R350 valet fee to vacuum the car. I had already wiped down the inside and drove over to a nearby gas station with a car wash and had it vacuumed for R30. Then they did a very thorough inspection of the vehicle and found three areas of damage: one was a scratch under the front bumper where I had not even looked on the initial damage inspection in Cape Town. The second was a virtually "invisible" smooth dent on the left front door that I had to use my imagination to see. The third was an obvious dent received in a parking lot on the left rear. I was told Budget would review the damage and contact me in a week as none of it was covered by the insurance offered by Budget. The whole affair left a very sour taste in my mouth as I was now at the whim of Budget and their probably inflated repair costs with no limit on charges. The estimated R7800 rental cost could easily balloon to several times that. My only hope was insurance provided by my credit card. Car rentals are scary.
Apartheid Museum. This excellent museum is a chilling insight into the architecture and implementation of the apartheid system and struggle for democracy.
After the museum, I asked the staff at the front gate of the museum if there was public transport to Park Station and they only pointed to the Get on-Get off tourist bus. As I had just missed it by 3 minutes, their only alternative suggestion was a taxi for R150. They seem to believe that white people only take these sorts of transport. I simply walked out to the road and caught a minivan to Park Station for R10. I was the only white person on it and it arrived quickly downtown. It was a short walk to Park Station and the Gautrain (R165) to OR Tambo International Airport for my flight to Shanghai at 7pm.
Some Observations on South Africa.
1. Every city has a township where the poor blacks live. It is well separated from where the mostly white, rich live. In many of them, every tiny house is identical. Corrugated metal roofs covered in rocks is common. Streets are often dirt.
Where there are only townships, they aren't even listed on the map.
2. There is a huge wealth and opportunity disparity in this country. Although blacks can go anywhere, their economic situation looks dire. When I asked the black ranger at Kruger about this, he said "They are a lot better off than the people of Swaziland and Lesotho". I am not sure that this is a good excuse.
3. Safety. This is the first country that I have traveled to for a long time where I have been so fear-mongered by the locals. In Cape Town, we wanted to walk from downtown to our hostel near the waterfront at 7pm, but were warned to never walk at night – the chances of being robbed or stabbed was extremely high. One night we walked this route staying on the busy streets and had no problem. I had to park my rented car inside locked gates at my hostel in Pretoria and Windhoek or it would be stolen. Every house owned by whites has a walled topped with an electric fence or razor wire.
After going to the Aparthied Museum in Johannesburg and seeing the marked discrepancy in wealth between blacks and whites, it is not hard to understand why blacks might resort to crime. If I had been screwed over like these people and had no opportunities, I might resort to crime too.
4. As stated in the Travel Tips, SA drivers are crazy as they drive very fast, usually on roads hardly equipped for those speeds.