Namibia Mar 27-April 14, 2017
TRAVEL TIPS
1. Electrical Adapters. South Africa and Namibia have a different adapter than anywhere else in the world – a large, round, widely separated two-prong. Buy one on entering the country.
2. Money Changers. Beware the guys at the Angolan side of the Angolan/Namibia border. They do all the things to beware of: take your money before the transaction, high pressure, act in groups and generally try their best to confuse the situation. Read my post on money on the Travel Page on how to behave with all money changers on the street, easily the most common way to change money on the entire west side of Africa.
3. Get rid of your Namibian dollars before entering South Africa. Even though you can use SA rand in Namibia, they can't be used in SA and are not changeable except at the border.
Official name. Republic of Namibia
Capital and largest city. Windhoek 22°34.2′S 17°5.167′E
Languages. Official: English. Recognised regional languages: Afrikaans, German, Ju'hoansi, Khoekhoegowab, Oshikwanyama, Oshindonga, Otjiherero, Rukwangali, Rumanyo, Setswana, Silozi, Thimbukushu
Ethnic groups. Ovambo: 49.5%, Kavango: 9.2%, coloured (including basters): 8%, Herero: 7%, Damara: 7%, Namibian whites: 7.0%, Nama: 4.7%, Lozi (Caprivian): 3.5%, San: 3%, Tswana: 0.6%, others: 0.5%
Demonym. Namibian
Government. Unitary semi-presidential republic. President Hage Geingob
Independence from South Africa 21 March 1990
Area. Total 825,615 km2 (34th). Water (%) negligible
Population. 2011 census 2,113,077[11]. Density 2.54/km2 (235th)
GDP (PPP) 2016 estimate Total $26.399 billion. Per capita $11,786
GDP (nominal) 2016 estimate Total $13.703 billion. Per capita $6,118
When to Go. May–Oct: Best time for wildlife viewing; animals congregate around remaining waterholes. Jun–Aug: Coastal town such as Swakopmund are subject to miserable sandstorm conditions. Nov–Apr: The off-season as the wet gets into full swing – downpours from January to April.
MONEY. Namibian dollar (NAD) subdivided into 100 cents. Namibia (along with Lesotho, South Africa and Swaziland) is a member of the Southern African Common Monetary Area, and as such the Namibian Dollar is pegged 1:1 to the South African Rand (ZAR). Both the Namibian Dollar and South African Rand are legal tender in Namibia, though change will usually be given in Namibian Dollars. Namibian notes come in denominations of N$10, N$20, N$50, N$100 and N$200, and coins in values of 5, 10, 20 and 50 cents, and N$1 and N$5.
Banks in Namibia will convert Namibian Dollars and South African Rand without charge. Exchange outside Namibia will charge a substantial service fee to change currency, it is advisable to make use of a Namibian Bank before leaving the country.
ATMs are available in Windhoek, Swakopmund, Luderitz, Tsumeb, and other towns and cities. It is best to use only teller machines that are inside a mall or other building. Many machines have guards in the larger centres. Be vigilant about typical scams (e.g. machines that seem to eat your card and won't give it back after you enter the PIN).
Credit and debit card fraud is a major problem. Make sure you get a receipt for all processed and cancelled transactions.
VISAS. Nationals of Angola, Australia, Austria, Belgium, Botswana, Brazil, Canada, Countries in the Commonwealth of Independent States, Cuba, Denmark, Finland, France, Germany, Iceland, Ireland, Italy, Japan, Kenya, Lesotho, Liechtenstein, Luxembourg, Malaysia, Malawi, Mauritius, Mozambique, New Zealand, Netherlands, Norway, Portugal, Seychelles, Singapore, South Africa, Spain, Swaziland, Sweden, Switzerland, Tanzania, Turkmenistan, United Kingdom, United States of America, Venezuela, Zambia and Zimbabwe may enter Namibia visa-free for up to 90 days.
Visitors not from the above countries need to apply for a visa from the Namibian consulate in their country of origin or the Ministry of Home Affairs, Windhoek.
Apply for one at a British embassy, high commission or consulate in the country where you legally reside if there is no Namibian diplomatic post. British diplomatic posts charge £50 to process a Namibian visa application and an extra £70 if the authorities in Namibia require the visa application to be referred to them. The authorities in Namibia can also decide to charge an additional fee if they correspond with you directly.
Always verify the dates stamped into your passport, because there have been cases where corrupt officers stamp wrong dates to fine people for overstaying when they leave, and these fines are huge.
Visas for Onward Travel can be obtained in Windhoek.
Angola – Apply in their home country or attempt an overland visa from the Angolan consulate in Oshakati, northern Namibia.
Botswana – Visas on arrival are valid for 30 days and are available for free to passport holders from most Commonwealth countries (but not Ghana, India, Nigeria, Pakistan and Sri Lanka), all EU countries, the USA, South Africa, Namibia, Lesotho and Swaziland.
South Africa – No visa for Commonwealth countries (including Australia and the UK but not New Zealand), most Western European countries, Japan and the USA.
Zambia – Tourist visas are available at major borders, but should have a Zambian visa before arrival if travelling by train or boat from Tanzania.
Namibia (nəˈmɪbiə) is a country in southern Africa whose western border is the Atlantic Ocean. It shares land borders with Zambia and Angola to the north, Botswana to the east and South Africa to the south and east. Although it does not border Zimbabwe, a part of less than 200 metres of the Zambezi River (essentially a small bulge in Botswana to achieve a Botswana/Zambia micro-border) separates it from that country. Namibia gained independence from South Africa on 21 March 1990, following the Namibian War of Independence. Its capital and largest city is Windhoek, and it is a member state of the United Nations (UN), the Southern African Development Community (SADC), the African Union (AU), and the Commonwealth of Nations.
The dry lands of Namibia were inhabited since early times by the San, Damara, and Namaqua peoples. Since about the 14th century AD, immigrating Bantu arrived as part of the Bantu expansion. Since then the Bantu groups in total, known as the Ambo people, have dominated the population of the country and since the late 19th century, have constituted a large majority.
In the late 19th century during European colonization, the German Empire established rule over most of the territory as a protectorate in 1884. It began to develop infrastructure and farming, and maintained this German colony until 1915, when South African forces defeated its military. After the end of World War I, in 1920 the League of Nations mandated the country to the United Kingdom, under administration by South Africa. It imposed its laws, including racial classifications and rules. From 1948, with the National Party elected to power, South Africa applied its apartheid policy also to what was known as South West Africa. In 1878 the British Cape Colony had annexed the port of Walvis Bay and the offshore Penguin Islands; these became an integral part of the new Union of South Africa at its creation in 1910.
In the later 20th century, uprisings and demands for political representation by native African political activists seeking independence resulted in the UN assuming direct responsibility over the territory in 1966, but South Africa maintained de facto rule. In 1973 the UN recognised the South West Africa People's Organisation (SWAPO) as the official representative of the Namibian people; the party is dominated by the Ambo people, who are a large majority in the territory. Following continued guerrilla warfare, South Africa installed an interim administration in Namibia in 1985. Namibia obtained full independence from South Africa in 1990. But Walvis Bay and the Penguin Islands remained under South African control until 1994.
Namibia has a population of 2.1 million people and a stable multi-party parliamentary democracy. Agriculture, herding, tourism and the mining industry – including mining for gem diamonds, uranium, gold, silver, and base metals – form the basis of its economy. The large, arid Namib Desert has resulted in Namibia being overall one of the least densely populated countries in the world. Namibia enjoys high political, economic and social stability.
WHY GO?
A journey through southern Africa reveals its otherworldly nature when you cross the border into the vast reaches of Namibia. The combination of space and landscape ensures that a trip through this country is one of the great road adventures of the region. Natural wonders such as the mighty gash in the earth at Fish River Canyon and Etosha National Park enthrall, along with the lonely roads cutting through swirling desert sands. See sand dunes in the world's oldest desert, the Namib, and meet the crashing rollers along the wild Atlantic Coast. Amongst this is a German legacy evident in the cuisine, art nouveau architecture and festivals.
Namibia is also the headquarters of adventure activities in Southern Africa.
Angola/Namibia Border. Nakacumbe, Angola /Oshgango, Namibia. March 27, 2017
It took about 1 ½ hrs for everyone to be individually stamped out of Angola, then it was a long walk along walled walk-ways to the Namibia immigration. After filling out a form, it was a fast 5 minutes. There was a KFC down the street and most had the first feed of American fast food in several months.
English, South Africa/Namibian style electrical plugs (2 wide round holes), driving on the left hand side, school kids in very nice uniforms, strip malls, chain stores – this is possibly the biggest change of any country as it is the most Westernized of any we have been in so far. It even has American fast food, almost the first on the trip. But most everyone is black. And the HIV rate is one of the highest in the world at 24%.
The landscape across the border is identical – absolutely flat savannah bush, short grass, palm trees and verdant green with lots of standing water from all the rains. The houses are generally better with more plastered homes. Many are in compounds, often made of galvanized. But there are some funny little concrete block, thatched roofed round classic African rural homes. Maize is grown everywhere. There were lots of cattle and some goats and donkeys. We bush camped in an old gravel pit/quarry with an artesian well and large pools.
ETOSHA NATIONAL PARK
Covering an area of more than 20,000 sq. km, Etosha National Park ranks as one of the world's greatest wildlife-viewing venues. Its name, which means Great White Place of Dry Water, is inspired by the vast greenish-white Etosha Pan, an immense, flat, saline desert covering more than 5000 sq km, which for a few days each year, is converted by the rains into a shallow lagoon teeming with flamingos and pelicans. However, it's the surrounding bush and grasslands that provide a habitat for Etosha's diverse wildlife. Although it may look barren, the landscape surrounding the pan is home to 114 mammal species, as well as 340 bird species, 16 reptile and amphibian species, one fish species and countless insects.
Rest Camps. There are three rest camps that serve the park:
Okaukuejo Rest. Pronounced 'o-ka-kui-yo', this is the site of the Etosha Research Station and functions as the official park headquarters and main visitor centre. The Okaukuejo water hole is probably Etosha's best rhino-viewing venue, particularly between 8pm and 10pm, though you're almost guaranteed to spot zebras, wildebeest, jackals and even elephants virtually any time of the day.
Halali Rest Camp. The middle camp, it rests between several incongruous dolomite outcrops. The best feature is its floodlit water hole, a 10-minute walk from the rest camp and sheltered by trees with huge boulders strewn about.
Namutoni Rest Camp. At a whitewashed German fort, a colonial relic, the water hole is filled with reed beds and vociferous frogs.
Only the eastern two-thirds of the park are open to the general public. There's no public transport into and around the park, which means that you must visit either in a private vehicle or as part of an organised tour.
Off at 9am (March 28), the road in Namibia was the best Steve had ever seen it. Everything was a nice green with 2' high grass. This did not bode well for seeing wildlife as the animals did not have to congregate around the water holes. The road passed through some dead-flat grassland and we saw a Cory's bustard and a few isolated wildebeest. The park gates at Andoni opened at 10 and we drove across more flat grass savannah with an elephant in the distance. There was a huge number of birds but we knew the name of none of them (one thing sorely lacking on the truck is a bird book). Then we entered thorn savannah with a huge salt pan to the west full of water and saw 1 giraffe close-by and not much else (Steve had seen many elephant here in the past). The terrain altered between thorn savannah, salt pan and grassland on a loop drive. Initially we only saw a warthog running across the road but on the return loop, we saw a herd of 28 wildebeest and one zebra, 7 giraffes in the distance, 2 separate groups of ostrich, a herd of sprinkbok, 20 zebra, and several impala.
We had lunch at Namutoni Fort, built to repel the natives. The gift shops inside were all abandoned but one and there was no historical write-up. The waterhole had a few birds and people visited the gift shop in the large resort. In trees around the resort, we saw a great hornbill and a large, grey bird with a large feathered crest.
At Namutoni, we turned east to follow the south shore of the Etosha Pan. Etosha NP is 22,912 sq km with the Etosha Pan covering 4,730km sq, 21% of the park area. Originally thought to be a dried up lake, another theory is that it was formed my NE wind that eroded the sediment cover complemented by seasonal water erosion leaving the mammoth depression and dunes n the west and NW rim. Water only accumulates in the pan on very wet years. We took a side road that extended out into the pan and saw a fox? Also on this road, we met two overland trips – one was Dragoman (we had also seen one of their trucks in Togo) and Nomad Tours going from Cape Town to Victoria Falls, then Kruger NP and finishing in Tanzania.
At about the centre of the pan, we turned south to go to Halali, one of the three large rest camps in the national park where we camped. It was very nice with a restaurant and hot showers. The water hole there is lit at night. There were five rhinos. A few of us slept overnight at the waterhole on the large flat rocks hoping to see critters. We took shifts of being awake (I was 2:30-4:30), but only saw one rhino at 12:50 and nothing else. But it is a very pretty waterhole with a rocky shore and islands that you look down to from the viewpoint. And I finished a great Jonathan Franzen book, 'Freedom" while I waited.
This was the first day in 4½ months that we have seen more white people than black people.
We were off at 7am to be able to exit the park at 10 (our permit was for only 24 hours). We saw the same red hartebeest that we saw entering Halali – a large red antelope with nice spiral horns. The view was yellow short grasslands forever. A bustard chased a jackal.
Over almost 3 hours of driving, through dead-flat, treeless or occasionally thorn grassland, we see few animals – the occasional oryx, springbok, a raptor in a tree and even a rabbit gets several minutes of photographic attention. A large herd of zebra has one with no stripes but a totally dark brown trunk. After Okaukuejo Rest Camp, we hit pavement and just after 10, we exited at the Andersson gate.
We drove south via Outjo, a small town with no attractions but a great bakery with good food. I bought a Namibian electrical adapter and some food in the shopping mart. Next to the Tourist Information Center were two women of the same Himba tribe selling jewelry and topless. Their hair was in long braids that they twirl as they dance.
ODJITOTONGWAE CHEEETAH FARM
This cheetah sanctuary is on a farm about 10kms due east of Kamanjab (at the j in Kamanjab in the Lonely Planet Southern Africa). For 65N$ 5US$), we were treated to 3 completely habituated cheetahs – petting and licking you, laying around completely relaxed in the guys back yard. All three were born in the wild and rescued at around 2 weeks – one from a litter of 5 that the mother couldn't handle, one with an infected eye, that he treated and the mother would not take it back and one with a broken leg discarded by the mother. He bottle fed them every 2 hours in his house and now get daily exposure to all sorts of strangers. Three jack russel terriers mingled with all of us. We could not wear hats (they like to play with hats), wear sunglasses (they don't like to see their reflections) and no flip-flops (they like to play with these too). We were also to avoid touching their feet or bellies but head, ears, neck and back were all tolerated amidst much purrrrrring. We all hung out in the back yard for at least an hour.
Then we all boarded a truck with a trailer to feed cheetahs in the wild. Four animals were in the first group all close to the truck. Huge chunks of horse meat were thrown to the 4 cats. Then a mother and her three – eight month old cubs were thrown large chunks of meat. There are no natural animals for them to hunt and they are fed by the sanctuary. These animals will never be released as 80% would be shot by farmers. There are a total of 10 cheetahs in the "wild" state here. Cheetahs live for 18-20 years.
This was nothing short of amazing and a screaming deal. We camped in their nice camp ground.
This is different, much better and much cheaper than the Afri-Cat Foundation at the Okonjima Lodge near Otjiwarongo where there is a cheetah and leopard rehabilitation centre and sanctuary for orphaned or problem lions cheetahs and other cats.
HIMBA VILLAGE
On the 30th we visited a Himba village. With 26,000 members in the tribe, some in the north and some here, they still live a traditional lifestyle. The great thing about this visit is that is was completely authentic; this is where they live, not a recreated village for tourists.
Village. Around a central kraal were several wattle homes with thatch roofs. A home takes 2-3 wks to build and lasts 5-6 years, being plastered every year after the rain season. The homes have a central pole, dirt floor and a daily fire inside to keep away insects. The walls were covered with natural hides used for clothing and hair dressings. "Furniture" consisted of thin skins on the floor and a small wood headrest for a pillow (this is what allows them to sleep with their hair all covered in ochre mud). Each women has two horn cosmetic jars – one with ochre and one with "perfume" of herbs.
Each village had about 30 women and 5 men and supported an orphanage with 50 children. The orphans are most often the result of divorce – a woman cannot get married again with children and the children are simply abandoned. There are few HIV orphans but HIV exists as men go to work and spend time in towns and bring back HIV to the women who are not sexually active outside the village.
Women. All dress traditionally: . barefoot, naked on the top, cloth loincloth, ankle bracelets of made from barbed wire (15-20 per ankle used to protect their feet in the bush, 2 leather vertical strips show if have had two or more children), many wrist bracelets and multiple leather necklaces. The hair is the most astonishing: about 25 braids coated in a ochre clay/butter mixture and ending in a heavily back combed ball not covered with clay. The women seemed to spend most of the time backcombing this end in big fluffy balls. The clay covers several braids brought across the top of the head. Married women had animal skin (usually goat) decorations on top of the hair. They are completely at ease in their nudity.
The ochre comes from a rock that is pounded to a fine powder and then mixed with butter. A woman was making butter in a large gourd suspended by thongs and was shaking it.
Girls in early puberty wear their hair in two large braids brought over their head and hang down in front of their face. They have a single necklace and single ankle bracelets. Women eligible for marriage have typical adult braids but no animal skin "ornament" on top. They also start removing front teeth at puberty. Biting is done by molars.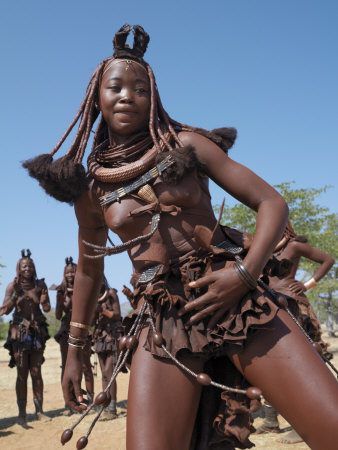 Women get married at about age 15-16 and start having babies at 16-17 – often around 8 but as many as 15. The men are polygamous – each wife costs him 5 cattle given to the brides family and each wife lives in their own hut.
The women never bath with water but cover themselves with an ochre/butter mixture every day giving their body a red sheen. They take a smoke bath daily to keep insects in their hair and bodies away.
The women may go to school for a few years but most quit as education has little value for them. They use no birth control. There were no visible old people to see, and I have no idea of life expectancy.
Food is mainly a porridge combined with sour milk.
Men. To get married requires about 20 cattle and 5 more to give for each wife. Because of recent droughts, acquiring enough cattle to get married can be difficult. Boys are circumcised at age 10, women are not circumcised. Men dress in Western styles.
They usually don't eat meat and mostly raise cattle for milk. The bull calves are usually castrated and can be sold at auctions in nearby towns. That is one source of income. They also eat pumpkin and other vegetables.
Our guide was from the north, 34, unmarried and one of 14 children. He had grade 10 but had to quit because of money. He was not a good cattle herder (which required being able to walk 20-30kms per day) and so was given the opportunity to go to school. He would like to get married but doesn't have enough cattle. He hopes to work as a guide, was very well spoken and informative. There have been mostly drought in recent years but this year, rains had been plentiful and there was a lot of grass.
After the tour, all the women sat in a circle behind displays of handicrafts (mostly jewelry) for sale.
The government runs a school and supplies teachers. They also give rice (from China) in times of drought. But the communities are relatively independent making income from tourism (about 2-3 groups like ours visit per week, cost 100$, reduced from 150 because of bargaining from Steve).
This was an astonishing experience. I had no idea that completely traditional places like this still existed outside uncontacted peoples.
We drove SW from Kamanjab over a corrugated gravel road through bush savanna with sand and short grass and rocky low hills bordering the road. It is weird as there are 13 people kneeling on the seats looking out the window – normally it is just me and one or two others. For me the scenery is very average and I would rather read. Before the 1540m Grootberg Pass, 97kms from Kamanjab, red buttes and mesas with a short cliff at the top start to appear. From the pass are great views to the south. The Grootberg Resort is on top of the mesa to the east (rates are single – 2100$ and 2 doubles 5400$ (600US$) with better views and zebras and kudu. A generator beside the highway pumps water up to the resort. After a long descent, we pass through more mesas with the same short cliff and everybody is entranced by the view. The land turns to rocky desert with no grass but sporadic trees. We bush camped on the rocks.
Steve has "found" two extra days gained by not going to Namibe in Angola. As a result, he has added the following four places to the places visited.
Up at 7am, we drove through hilly red rock desert dotted with grey sagebush, pretty in the early morning light. There was a panorama of buttes topped by a short cliff and bisected by another short cliff half way up. There were donkeys and horses and a single springbok. A small sandstone butte unloaded the entire truck to gaze up in wonderment and scramble up. Sand and gravel with a few green bushes led up to alluvial fans descending from rocky hillsides.
PETRIFIED FOREST (Verstsende Woud).
This is not even worthwhile it you are driving by, no less to make a detour and drive any distance to see and then pay 40$ – two trunks and a few piles of small bits gathered from the surrounding rocks. Drive west and then north to Khorixas, take C39 west 40km.
The Pinnacles north of Perth, Australia has standing petrified trees and Petrified Forest NP in northern Arizona has amazing collections of huge logs spanning a creek bed and large marbled ends.
DAMARA CULTURAL VISIT
Just past the petrified forest, this is a recreated village – wood framed houses and shelters covered with grass (when it rains they go into caves in cliffs near any village). 11 people live in the real village across the way and the "show" was put on by the grandmother, her two sons and 2 daughters, one of the men's wives and their 3 children. We say traditional medicines (explained first by the grandmother in their click language and translated by the main guide), beer making, a game played in a grid 4×15 holes with stones (played by chiefs to settle disputes), goat skin scrapping with a "multi-tool" and tanning with butter, jewelry making (ostrich egg beads) into bracelets and necklaces, blacksmithing (used rock to pound metal on a rock anvil), wood carving, lighting a fire using a drill, and finally three songs and dancing.
Clothing was naked above the waist and tanned skin loin cloths, barefoot for the women and a wooden loincloth for the men.
Unlike the Himba village visit, this was completely recreated. The women wear normal clothes in the village across the road.
TWYFELFONTEIN (Doubtful Spring).
A Unesco World Heritage Site, it is one of the most extensive rock galleries on the continent. 2500 individual engravings dating back 6,000 years have been discovered. The work of ancient San hunters in 6 distinct phases. Guides compulsory. Fee 60$. Most of the panels are ok and giraffes, rhinos, some elephants, and one panel, a seal and penguin. Only one panel is deeply incised and includes a giraffe, wildebeest, and a lion with a long bizarre tail bent 90° and five-toed feet.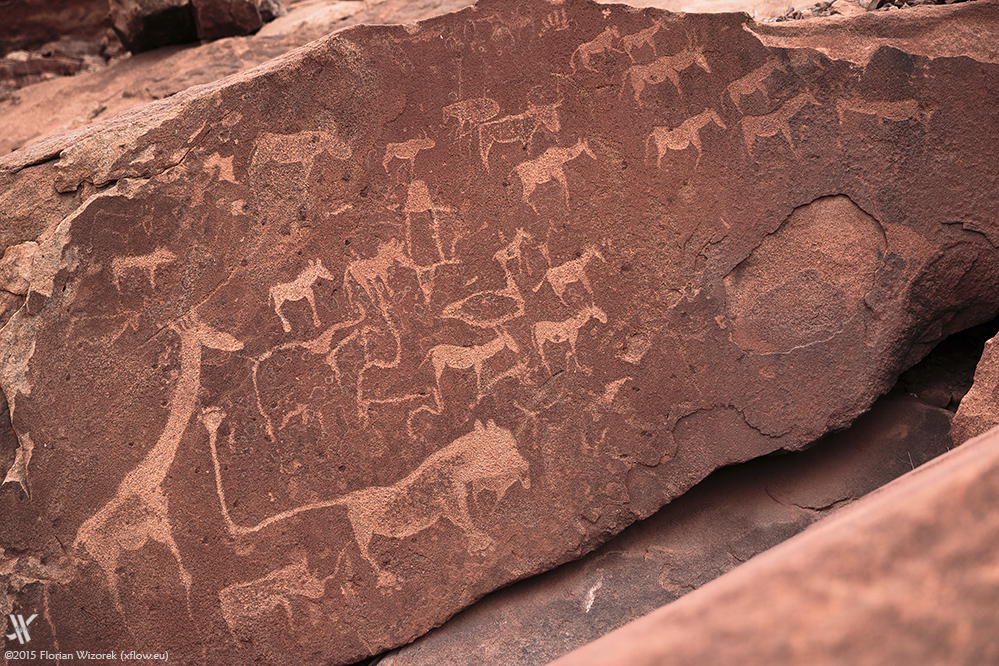 Depending on your experience with rock art, this may or may not be worthwhile. I have seen hundreds of much more spectacular rock art in Utah and Arizona and would not drive too far out of my way for these.
BURNT MOUNTAIN
This is a 12km long volcanic ridge with volcanic clinker at its base forming an eerie and desolate landscape. Beside D3254, 3km south of Twyfelfontein. Organ Pipes are 100m stretch of unusual 4m high dolerite (coarse-grained basalt) columns.
We simply drove in and turned around not realizing there was a charge of 50$ to see both – both very underwhelming examples – Burnt Mountain is a small rock of black rock and the small 4-sided brown basalt columns are uninspiring compared to the many hexagonal basalt columns I've seen elsewhere like Devil's Post Pile in eastern California or Giants Causeway in England.
The road passed through a wonderful short grass plain, unusually verdant with all the grass in seed because of the rain in recent weeks. The flats are backed by rocky red cliffs. There were many stunning rocky outcrops covered with boulders on both sides of the road.
We had a blow out on the one of the dual rear wheels and bush camped in the desert just off the road. A crack in the rim was discovered so 2 wheels had to be changed.
The next morning, we took D2319 via Sorris Sorris Resort instead of the slightly longer C35, and got stuck in a river bed that required lots of digging and use of the sand mats to get across. We then turned onto D2359 for the 21km drive into Brandberg.
BRANDBERG (Fire Mountain)
At 2573m, Namibia's highest peak, this massive pink granite bulge has great light at sunset resembling a burning slag heap. Has one of the finest remnants of African art, a pictograph, at Tsisab Ravine features the White Lady of the Brandberg, a 40cm figure, part of a bizarre hunting procession. The figure is carrying an ostrich egg with poison in it in one hand and a bow and arrow in the other. Thought originally to be a female, it is now accepted to be a shaman doing a dance in ashes making a white body from the chest down. His hair is straight and light coloured – distinctly non-African. A guide is compulsory for 60$ and the walk is about 40 minutes each way up a water course with little elevation gain.
Monochrome figures date from 7000 years ago and the many polychrome figures date from 4000 years. There are several beautifully drawn animals with wonderfully preserved colour: 5 oryx, a wildebeest, mountain zebra and several springbok and several figures, one slightly larger, the white lady.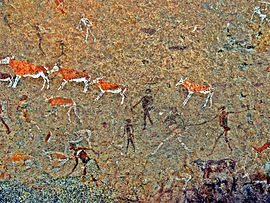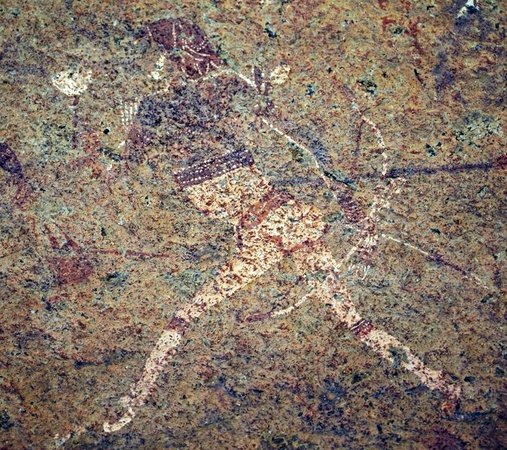 Hiking anywhere requires a guide for 300$. To climb the mountain highest summit is a 3-day hike, two days up and one down. It is visible from the pictograph site. No one went hiking because of time constraints and cost. Only three hiked to the pictograph. On leaving the visitors centre, a troop of 25 baboons with a white buttock blaze ran across the road.
We camped on the open desert just south of Brandberg. The drive to the ocean was through desolate desert, all gravel and rock and an area of rocky out crops with little vegetation.
As we had had no ability to buy vegetables, we had a fire and noodles for lunch. Tammy does not eat noodles and had canned vegetable stew from the truck. This pissed everyone off as the noodles were awful and we resented her "special" treatment.
SKELETON COAST
One of the world's most inhospitable waterless areas, it is soggy, rocky and sandy with rusting shipwrecks flanked by wandering dunes. The coastal shallows have been the graveyard for unwary ships. Early Portuguese sailors called it the Sands of Hell, as once a ship washed ashore, the fate of the crew was sealed. Extrapolated to take in the entire Namib Desert coastline, it is actually the coast from Sandwich Harbour, south of Swakopmund north to the Kunine River.
Dorob NP is a 200km-long, 25km-wide strip that extends beyond the Swakop River down to Sandwich Harbour in the south with its northern border the Ugab River. Fishing and wildlife. No permit necessary.
Skeleton Coast Park. At Ugabmund, 110km north of Cape Cross, is the entry gate. Fog and dusty sandstorms, eerie, remote and wild, it gets few visitors. Permits require planning as day visits are not allowed and you must pass the entry gate before 1pm and exit before 3pm the same day.
Skeleton Coast Wilderness Area. It stretches between the Hoanib and Kunene Rivers to make up the northern part of the Skeleton Coast. The only accommodation is a private concession and only air accessible.
CAPE CROSS SEAL RESERVE
The large 100,000 strong, Cape fur seal population is here because of rich fish in the cold Benguela Current. Piles of stinky seal poo are noticeable immediately along with piles of fur everywhere. There are 25 colonies of Cape fur seal on the Namibian coast and this is the largest. Females weigh 40-80kg and males 200-350kg, ie. 5 times the size. I did not see any obvious males and it seemed that there were only females and their black pups at the reserve now. Pupping occurs November to December and greatest mortality is in the first 6 weeks related to maternal food supplies and heat stress (greatest if there is a high ambient temperature that occurs when winds blow form the east as southerly winds bring cooler temperatures and more upwelling of currents). It was surprisingly cold out as the wind was from the south. They eat 1.5-6.6kg per day with an average of 3.6kg.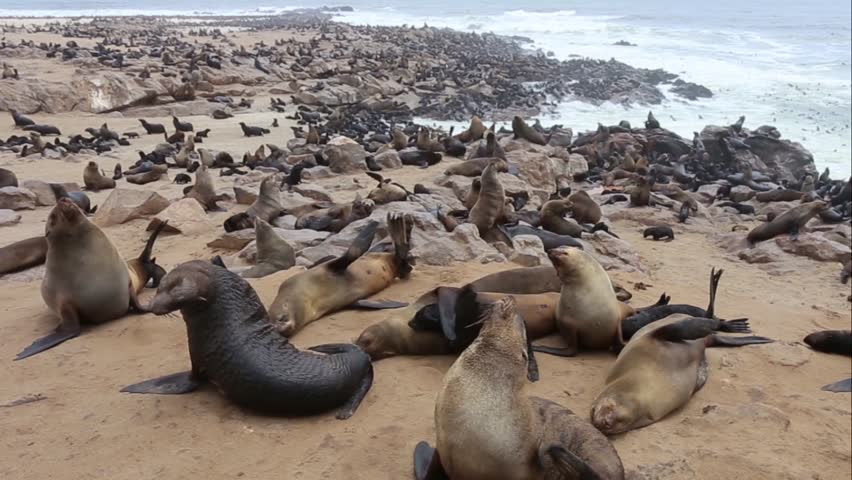 There were seals everywhere – on the rocks by the parking lot, around and under the wood boardwalk, filling the picnic table shelter, covering everywhere between there and the ocean and an uncountable number in the ocean.
It was 110kms to Swakopmunk on a good salt road. We gave three fellows from Belarus a ride for the 5kms out to the Reserve and then into Swakopmunk. They had been hitchhiking through Namibia.
We arrived at Swakopmund Rest Camp where we stayed in 6-bed A-frames for 4 nights (paid for by Oasis). We were met by the husband and wife team who were taking our truck from Mt Kilimanjaro, Tanzania through the Democratic Republic of Congo overland to Buea, Cameroon, from where you can climb Mt Cameroon, the highest peak in West Africa. This is the first time Oasis has run this trip and it should be a real adventure. In the past week, 40 people were beheaded and 2 UN workers taken hostage in a part of the DRC that the trip planned on traversing.
They were real hosts with generosity not seen so far on this trip – everyone was greeted with a beer and we had oryx steaks for supper (very lean, cooked minimally and melted in your mouth).
We were up at 7 for breakfast to start a total clean of our truck at 8am. We then loaded everything into the truck continuing to Cairo and for the rest of Namibia and South Africa.
SWAKOPMUND (pop 45,000)
Sandwiched between Atlantic rollers and the Namib Desert, it feels like a surreal colonial remnant. The people are a quirky mix of German/Namibian residents and overseas German tourists. It is Namibia's most important holiday destination and is anything but boring. Skydiving, beach, fishing, and sand boarding make it the adventure sports capital of Namibia. Even though it is Namibia's main beach resort, even in the summer, the water is never warmer than around 15 degrees (the Benguela current sweeps upwards from Antarctica). Swimming in the sea is best in the lee of the Mole sea wall.
At the lagoon at the Swakop River mouth, you can watch ducks, flamingos, pelicans, cormorants, gulls waders and other birds. North of town are miles of deserted beaches stretching towards the Skeleton coast.
Most tour operators don't have offices in town and most activities are arranged through your accommodation. Many on the trip had been saving money for one or more of the adventures on offer.
Sand boarding. Stand up only with experience, otherwise it might be safer to lie down.
Scenic flights. Pleasure Flights offers scenic aerial cruises.
Skydiving. Relatively cheap at about $200, the views are sweetened by the outstanding dune and ocean backdrop.Four people went skydiving and enjoyed it.
Woermannhaus, Kristall Galerie (large crystals).
Rossing Mine Gem tour – world's largest open-cast uranium mine.
Webutschia drive – two long, leathery leaves, darkened and torn by the wind so looks like a giant, wilted lettuce. Largest ones are 2m across and up to 2,000 years old. Dominant plant species at confluence of the Khan and Swakop Rivers. Also grey and black lichen fields. Moon landscape of eroded hills and valleys carved by the Swakop River. Inside Dorob NP. 2 hour drive.
On our first morning at Swakopmund, we did a complete clean of the truck and everyone transferred all their stuff to the new truck. We even went so far as to clean all the fire-blackened pots, even though they will look identically after one use.
On our second day, 4 went sky diving ($200), 4 went fishing (had to throw back about 90% of what was caught because of size limits and Blake was sea-sick the entire time), one went kayaking and I did my wash and used the internet. This was about the 7th day in a row of bright, sunny weather but we woke up to the typical fog on day 3.
Swakopmund would fit into any European or North American city – modern, sophisticated buildings, nice shopping areas, good restaurants and large food markets. It is a very wealthy town based on five uranium mines, diamonds and cattle. There is an obvious wealth disparity with Africans at the bottom of the heap. There are nice walks along the ocean by an aquarium, museum and light house.
We left Swakopmund at noon on April 6 and drove a new way for Steve to Windhoek, on highway C28, good gravel traveling due east in a relatively direct line to Windhoek. Initially flat sand with little vegetation, after about 2½ hrs, it passed through a lovely area of short grass in seed, rock outcrops, domes, cliffs of quartzite all in a beige colour. After 4 hours we crawled up Bosun Pass in a "crawler" gear for stupendous panoramic views. The road was relatively steep and this truck is 20HP more underpowered than our old truck. Because is has two rear axles, the design is significantly different with fewer outside compartments. The storage lockers are much bigger but it is all wasted space as they are simply deeper and it is a long way down to get stuff out. The lockers also don't have walls separately the spaces so everyone's stuff migrates into the next space.
The summits are mostly rounded dirt covered with small bushy trees to the south of the highway and over the pass. All the plants on the side of the road are full of a large black cricket (armored ground cricket) with 6 very long legs. Our campsite had hundreds of the crickets, grasshoppers and a spiky seed that penetrated everything – hundreds were on the soles of my flip-flops and they imperiled blow-up sleeping pads).
The views descending to Windhoek are across a sea of hills covered in short grass and thorny bush. We saw a kudu, a herd of 6 gemsbok (looks like an oryx), klipspringer, warthogs and zebra. Next the road passed through high rolling plateau with lots of cattle (all red-brown and very healthy looking), fencing and Texas gates.
WINDHOEK (pop 240,000)
Central Windhoek is a surprisingly modern, well-groomed city. First impressions confirm that the city wouldn't look out-of-place in the West. Almost all homes have concrete walls topped with either razor wire or electric fences. Katutura, the once ramshackle township on the outskirts of the city, now just another outer suburb, gives insight into the reality of most people's lives within the boundaries of the capital. Windhoek makes a great place to begin or break a journey through Namibia and Southern Africa. The accommodation choices, food variety, cultural sights, shopping and African urban buzz give it an edge not found anywhere else in Namibia.
National Museum of Namibia. The whitewashed ramparts of Windhoek's oldest surviving building date from the early 1890s. The building houses the historical section of the State Museum, and exhibits focus mainly on Namibia's independence struggle.
Owela Museum. The other half of the National Museum of Namibia, about 600m from the main building. Exhibits focus on Namibia's natural and cultural history and it was better done than the other half.
Windhoek has an interesting clothing store, Beaver Canoe, Toronto Canada. There are two of them downtown within a block of each, seems like overkill. I was with Mark (form Canada) and Toby and we went in. None knew what a beaver or canoe was and thought Toronto was in America. The clothes are not Canadian.
Most everyone went out to a restaurant for dinner as several people were separating here. As Julia from New Zealand could not get a South Africa visa, they are going on a 16-day tour of Namibia. Likewise, Pijush from India could not get a South Africa visa and is in the same boat. He is also having issues with Botswana, Zambia and Zimbabwe. Tammy is returning to England to get a new passport. The passports with 29 stampable pages are posing all sorts of problems for several people. Bob, from England has decided to quit in Cape Town instead of continuing to Cairo for that reason. Anders from Denmark is trying to renew his passport in Pretoria but has a 3-week wait. Others have removed a few visas and were lucky with efficient stamping by immigration officers and may be able to make it. They may have to skip countries or fly into Ethiopia to avoid having to send their passports home for visas. The best advice would have been to get the largest passport possible if available (48 pages for UK residents) rather than state a specific number of pages. Immigration officers need clear instructions on how to stamp passports.
I decided to leave the Oasis trip after Windhoek, but am only missing the seven-day straight through drive to Cape Town. I am tired of being on a tour and all the personalities. My personal personality disorder doesn't jive with some, especially the three women and two of their husbands left on the trip. Most of the other guys are reasonable in their own way, contribute actively to all the innumerable chores that need doing on a daily basis and are fine.
I am not much into banter, don't have a vibrant sense of humor, and am not one of the "pseudo intellectual socialites" – my label for the women and their two husbands and Chris, the only one who banters well, has a quick wit and is reasonably well read and intelligent. Interestingly, they are all English, have either red hair or a red tendency and all have hay fever. Simply ignoring them suits me just fine as I have a hard time stomaching the conversation.
Windhoek was the end of what was being seen in Namibia on the way down to South Africa. Because of rules for tourist vehicles in South Africa, the truck can only be there for two weeks. At Swakopmund, the truck was changed, new tour leaders take over in Cape Town, 4 people leave and 10 people join, and the truck returns to Namibia on its way through East Africa and Cairo.
I think one would have to be a masochist to go on a 40-week trip, stuck with many of the same people you haven't been able to tolerate for five months already, sleeping in a tent and cooking over a fire. I will return some day with my own vehicle and drive from Cairo to Cape Town.
I had planned on renting a car to see as much of the rest of Namibia and Kaligari Transfrontier Park in South Africa. There was no accommodation available until early May in Kaligari and I would have had to pay a 1600$ (~130US$) surcharge for taking the car into South Africa so abandoned that idea and decided to spend 6-days in Namibia and bus to Cape Town (all flights were booked).
I left the hostel with my day pack and everything in my day pack and 60 litre Deuter pack: 2 pairs of shoes, sleeping pad, sleeping bag, tent and clothing to deal with all temperatures. The only thing on the outside was my tent with the poles removed.
NAMIBIA ROAD TRIP (April 8-14, 2017)
Day 1. After booking another rest camp in Kruger, I finished packing – I am able to get my sleeping bag, pad, tent, solar shower with its rope, 2 paris of shoes and all my clothes in my 60-litre pack. I picked up my rental car at Budget and marvelled at all the exclusions – single vehicle accident (falling asleep at the wheel), undercarriage damage and a potential $900 cleaning fee (they even smell for smoke, only dust is allowed). Luckily I purchased a tire/windscreen addition for $150/day as I got my first rock chip at kilometre 64. They track the vehicle speed and location regularly. It is important to go over the car with a fine tooth comb to document all the scratches and damage on the car. Cost of the entire rental for 6 days was $2657 or about US$200. Collision, theft and loss insurance is included in the base purchase price (also covered by my credit card).
I had several issues with renting a car. First, except for 2 weeks in New Zealand eight years ago, I haven't driven a manual for a couple of decades. But it all came back quickly. Second, driving on the left side of the road adds an element of risk. It is so easy to pull out of a viewpoint, forget and be on the wrong side. Driving in a city would be the most problematic. Thirdly, I have fallen asleep at the wheel twice before. Since the start of the trip, everyone dozes off spontaneously frequently during the day. The only worry is drooling and bizarre head positions. But the insurance is void if I have an accident this way. I am determined to pull over at the slightest sign of fatigue.
I took Highway C26 SW towards the coast. Initially pavement, it soon turned into good gravel but with some surprising rocky bits that imperiled the undercarriage of the car. The multiple water courses were all dry. I probably encountered 8 vehicles, all 4x4s traveling at great speed. The first 125kms was through uninspiring rolling/flat thorn savanna to Gamsberg Pass where the road dropped via several switch backs through rugged mountains. The thin sedimentary layers were all tipped up to the east producing layered rock outcroppings. The road drove through all the dry river beds of Kulseb Canyon, a broad, sandy riverbed for most of the year but flows for 2-3 weeks during the rainy season. The road eventually opened up to wide dry thin grasslands bordered by rocky hills. I didn't pass another vehicle after km 80. There were several ranches invisible from the highway. A large herd of gemsbok was spotted at km 184 but this was the only wildlife. It is much difficult to spot when one has to concentrate on driving.
After 194kms on C26 that took 4½ hrs including a half hour snooze, I turned south on C14 towards Solitaire. A wide gravel road, it was minimally corrugated and I was able to maintain 90km/hr, but there was just enough loose gravel to keep it interesting. I crossed the Tropic of Capricorn 24kms after the turnoff.
I arrived at 4pm at Solitaire, at the turnoff to Sesriem. It was depressing – no restaurant (I had not had lunch), a gas station, a bakery and a lodge that was mostly closed. I bought some water, pop, juice, meat pies and a cinnamon roll and continued on the 84kms to Sesriem. It is a spectacularly good gravel road – wide, small amounts of fine gravel and little wash board. I was able to drive 100 over most of it.
Day 2. SOSSUSVLEI & SESRIEM. Part of Namib-Naukluft Park, this is pan with towering 300m sand dunes, one of the oldest ecosystems on earth. The Namib Desert stretches for more than 2000km along the coast from Oliphants River in South Africa all the way to southern Angola. The Naukluft portion of the park is not as well known, but the craggy peaks here are almost as impressive as the dunes themselves.
The gateway to Sossusvlei is 65kms away at Sesreim (no public transport). To see the dunes at sunrise when the colours are particularly breathtaking, stay in Sesriem and drive to Sossusvlei. The outer park gates open at sunrise (6am in April and close at sunset (6pm in April). The inner park gate opens at 5am. The Sesrium Camp Site, just inside the outer park gate was $130 but in April, 2017 was $200, truly a rip-off. At this time of the year, it seems that all of South Africa and Namibia is on holiday and the camp sites with picnic tables and electricity were all reserved, so I was put into the overflow camping – a large area of flat sand with 6 sites – each site has its own tree, garbage can and concrete fire pit – one of the poorest excuses for a camp site I have ever seen. And they still charge $200. This is the only accommodation inside the park and must be booked through NWR or get into the nightly lottery. As I don't even carry a camera, the photography at sunrise was not important and I wished I had stayed at a picnic table under a tree a few kilometres back on the road into Sesriem and entered at 6, but she refused to give me a refund 30 seconds after I had paid for it.
Pay for the park entrance (80/person +10 for the vehicle) at the same reception desk as for the campground. There is a restaurant and bar with a TV to watch football and a small store with rudimentary groceries. They had no milk so I had to have them unlock the outer gate to go to the nearby gas station but it closed at 6pm too.
I was up at 4:30, ate my cinnamon bun and cereal with grapefruit juice and was at the inner gate before 5 for the 65km drive. Posted 60km/hr, the most comfortable speed was over a 100 on the good pavement. I was first and drove to Sossusvlei in 43 minutes. Dune 45 is the most accessible of the dunes along the road. Without a 4WD, park under one of the large trees with the small picnic tables before the parking area for all the shuttle vehicles. Virtually everyone takes the open air shuttles for $150 or walk (best) the 5km into the pan. I started walking to Sossusvlei but then caught a ride on the side runners of a jeep with 4 other hitchers. I had talked to the English couple in the jeep the night before. They had driven over 8 months from England via Greece, taken a ferry to Alexandria, Egypt and then driven throughout all of East Africa, South Africa and now into Namibia, with plans to continue back to Tanzania. He took the wrong track through the deep sand, got stuck after about 500m and then we walked. I spent the morning with the four twenty-somethings, two couples – Australian/Canadian and S Africa/German. The entire day is one of those rare walks that could be entirely done in bare feet. Take lots of water.
Everyone climbs the "tourist" sand dune that is right in front of the parking lot. It is an easy climb to the crest for wonderful views of a sea of huge red dunes towering over a miraculous white pan dotted with dead trees and riven with a few water courses. The pan is a huge hourglass shape with the large east side devoid of trees. The dead trees form a strong contrast to the white pan. We had perfect weather, cool and overcast with a sea of broken cloud for great photography. We sat for at least an hour on top soaking up the other-worldly view.
It is a great descent down the steep dune face to the pan. The dead flat surface, the result entirely of water deposition, is hard and easy walking through the trees looking up to the massive dunes. Magical.
The tall dune behind the tourist dune would best be climbed by ascending up the low saddle at the far end of the "tourist" dune.
I walked west over a small dune slope onto another pan, much more broken up with water channels, over the dune saddle at its end and back to the jeep parking area. It was then about an hour walking back to my car. Initially walk on the broken pan to the left of the road and eventually walk mostly on the right side over pan and sand to the side of the road. The shuttles road is very braided as vehicles try to find the shallowest sand. The deep ruts of sand are the hardest walking. As you approach the parking lot, some of the easiest walking is on the heavily driven, unrutted sandy road and then on pan again at the end.
After my 6th hamburger in 4 days at the campground restaurant, from Sesreim I took Highway C27 south 101kms to Batta (no services) and continued on for the 98kms to Helmeninghausen arriving just at dark. After meeting a few cars close to Sesreim, I did not see another vehicle the whole way. The road passed through wonderful country, basically a broad valley flanked by rocky red mountains. Rocky desert with tiny tufted grass alternated with bright green short grass. I saw a jackal and 3 zebra, but I'm sure I miss lots of wildlife because of having to keep my eyes on the road. The light at the end of the day was spectacular. I almost broke down and took my first photo of the trip.
Day 2. Helmeninghausen is a tiny one-horse town, but it had a nice hotel with a restaurant. With a choice between meatloaf with fried egg or bratwurst (both with potato salad and a small green salad), I chose meatloaf but think the bratwurst would have been better. Rather than pay $130 for the campground, I drove down the road 200m and slept under a large tree at the side of the road.
Naukluft Mountains. These are a high plateau bounded by gorges, caves and springs cut deeply from the dolomite formations. The Tsondab, Tsmas and Tsauchab rivers all rise in the massif. The abundant water creates an ideal habitat for mountain zebras, kudu, leopards, springboks and klipspringers. The Waterkloof Trail is a 17km anticlockwise loop that takes about 7 hours to complete.
The Naukluft is best reached via the C24 from Rehoboth and then the D1206 from Rietoog. From Sesriem it is 103km on the D854.
Namib-Naukluft Park. Arid and semi-arid that is privately owned.
Hamilton Hills are a limestone range 600m above surroundings. Fog-borne moisture supports succulents.
Day 3. I was driving at 4:30am to get to Ludritz. After some mixed gravel on C13 to Aus, I turned west of B4, a good paved road, a speed limit of 120 and on some long straight stretches. The landscape is a large plain of sand and small gravel desert with no plants fringed by red-brown rocky outcrops.
LUDERITZ. German art nouveau + colonial town. I was here primarily to go to Kokmanskop and needed to get my permit and pay the fee ($85). The NWR office no longer sells them and I went to Luderitz Safari and Tours on the main street. But everyone else was buying theirs at the gate to the ghost town.
SPERRGEBEIT NP. Diamonds. Also seen by tour only are trips to Bogenfels, Pomona ghost town, Bogenfels ghost town. It is prohibited to drive a park vehicle here anywhere without permission.
KOKMANSKOP GHOST TOWN. Kokmanskop Ghost Town, I was there with about a 100 others for the 9:30 guided tour, free as part of the fee. In the new casino building, we were divided into Africaners, German and English speaking groups and saw the bowling alley, ice making house and the shopkeepers house, all refurbished (windows fixed and sand removed, furniture). The other buildings were all pointed out and more history of the town was given by the guide.
Established in 1908, the town was built 10kms east of Luderitz and had everything. 300 white workers and 44 children lived on the south hill separated by the diamond processing facility across the valley were 3 long buildings for the 800 labourers. They lived a completely different life.
The diamonds here are alluvial diamonds, meaning they were deposited by water flow, carried initially by the Orange River that originates far to the east in the Drackensburg Mountains of SA. The river carries them out to the Atlantic Ocean and the Benguela Current that flow north carrying them onto beaches. Addition of seashore, storms, rain and wind did the rest to spread the diamonds over a large area of desert. In fact the only mining done initially was surface mining with rows of men laying face first on the ground minutely inspecting every rock.
As a result of this dispersal method, the diamonds are 90% gem quality, the highest in the world. All the poor quality diamonds would be somewhere out in the ocean. 1000kg of diamonds were removed at Kokmanskop and at one time it produced 20% of the world's diamonds.
Fresh water was shipped up from Cape Town in large barrels, brought labouriously up to the town and stored in a cistern above town. Sea water was piped from Port Elizabeth and used in the swimming pool, to aid in ice production (sea water freezes at minus 2-5°C and metal cylinders containing fresh water are inserted into the still liquid sea water), and in the diamond processing. Each house got one half a block of ice delivered to her house (along with 20l of fresh water and soda water) each day by the miniature train that went everywhere. There was a butcher, baker, general shop and various other enterprises on one of the lower streets. 90% of everything in the town came from Germany. All but the shop and ice-making facility were full of sand dunes with little to see, save an odd bathtub or sink bolted to the wall.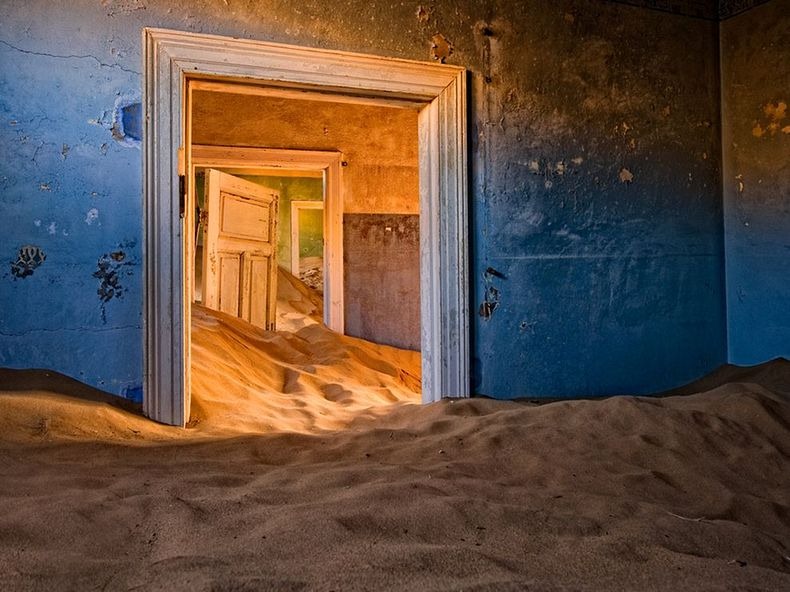 I started in the museum with great information (one of the best dioramas was methods of stealing diamonds – passenger pigeons, sewing them into their skin and of course swallowing), went up the hill to all the large homes of the chief officer (all windows repaired, all sand removed, walls painted but otherwise bare), teacher (totally fallen in, with a large dune filling it, but the most photographed building in the town), entertainment director and several others. It is a nice walk up the hill to the swimming pool that once had a diving board. The 250-bed hospital was full of sand but interesting for its huge size. I poked through the couples and singles buildings, went down to the business street and looked through the bakery. With good light there would be a million pictures but now every inch of sand has a footprint. Other than what is seen on the tour, the rest of the others all look the same – broken windows built on a slope so the rooms slowly fill up with sand, floor boards are broken, entrances blocked. The history is fascinating and it never hurts to learn more about diamonds.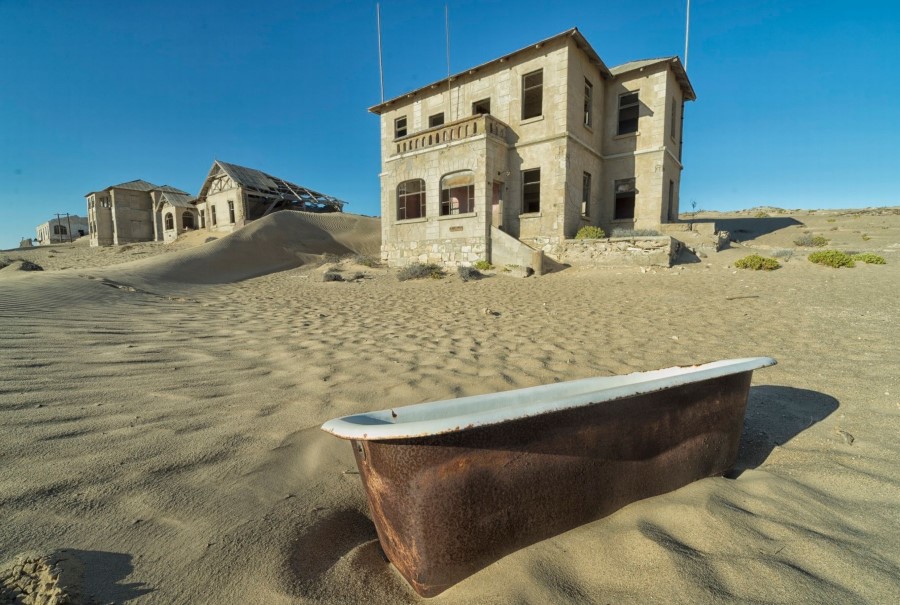 Day 4. I overnighted at Sendeelingsdrif on the Orange River and a border crossing into South Africa. There is a small 2-car pontoon ferry here at a place where the river is about 120m wide and flowing lazily. I slept in the open on a metal viewing platform near the road. It was very dewey and my sleeping bag got quite wet.
At sunrise I drove back to the intersection passing a large troop of baboons and continued on C13 to Aussenkehr (89kms away; Hobias at the east end of Fish River Canyon was 202kms). The road is well away from the river traveling through the barren rocky mountains and a narrow cut before coming down to the Fish River, much narrower than the orange with rocks and small rapids. A group of 6 monkeys and more baboons were on the road. The mountains across the river in SA were rugged and sharp peaked. This would qualify as a Scenic Byway anywhere in the world.
Then shit befell me. At a left hand corner, I struck a rock on the road, bent both rims on the left and had two flats. Luckily someone came along soon and contacted parks who appeared after 2 hours. Their idea was to leave the car, take the damaged rims back to Rosh Pinah and return with new rims. Several stopped and all agreed I was screwed and could expect to sit there for a couple of days. Then my lucky fairy appeared – a 50ish man with some original thinking. A big sledge hammer straightened both rims, he used his compressor to inflate the tires and we checked for leaks with water. Four or five more blows of the sledge hammer stopped all the leaks and I had two repaired tires. I put the spare on the front and the least damaged tire on the rear and continued on my journey!
Just before Aussenkehr, huge fields of vineyards appeared – most mature and many under construction (Solar Grapes). The town was unique – one giant shanty town of tiny shacks made from reeds from the river or corrugated roofing. These must house the labour force for the vinyards.
FISH RIVER CANYON. I took Highway C13 north (a gravel superhighway, wide and very smooth) north east over broad flat desert to Ai Ais, a resort with a hot spring on the river at the end of 5-day hike. The springs consisted of an unused extremely hot natural spring, two indoor pools near the reception and a large oval outdoor pool close to the entrance. It was all very sterile but I had a great shower and shave and a short dip in all the pools. I returned the 11km to C13 and continued to Hobas, the entrance to the north end of the canyon. After paying a $80 entrance, I drove the 10kms to the viewpoint above several meanders of the river. Fish River Canyon looks remarkably like the Grand Canyon, just not as deep. The walls are eroded a long way back, there is a broad plateau half way down (like the Tonto Plateau in the Grand) and the river is often obscured by the steep walled inner canyon.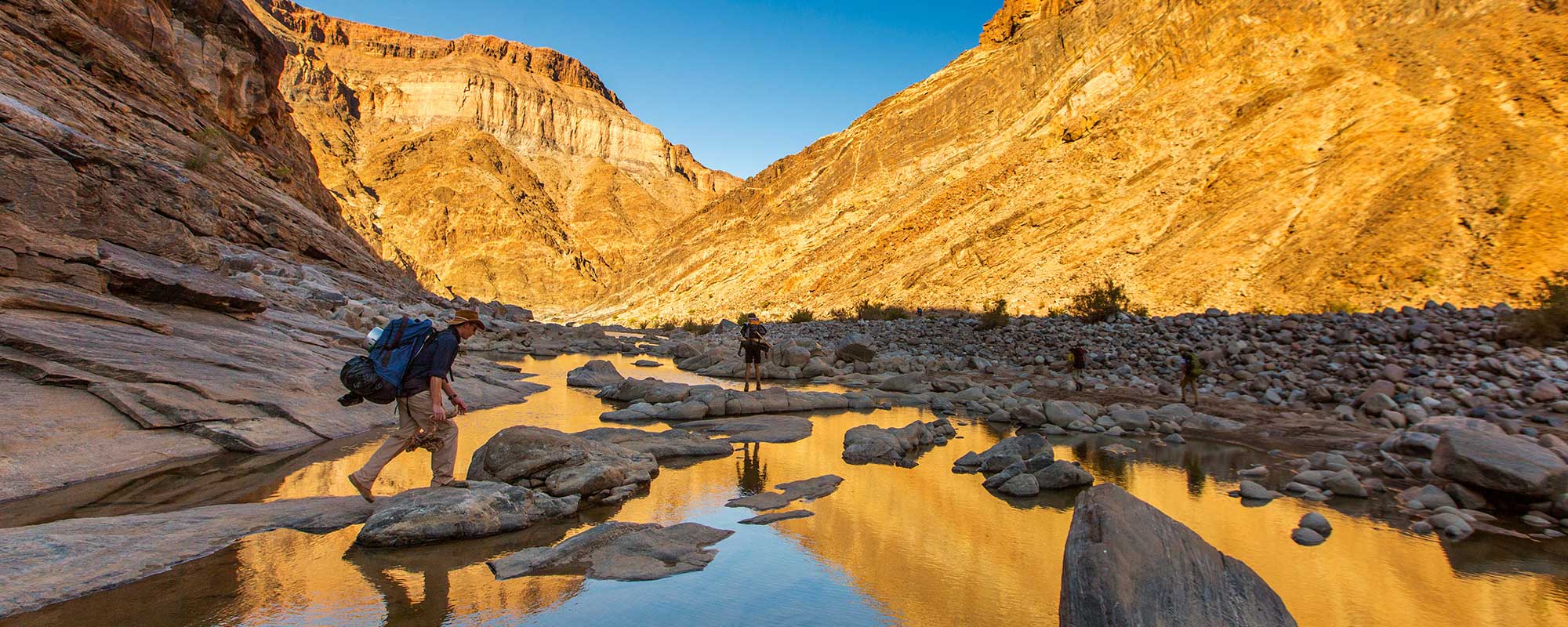 The canyon normally opens for hiking on May 1 (the Lonely Planet said April 15 and NWR said May 15 when I emailed them) when water levels are low enough to allow hiking around the pools. It is a 5-day backpack from Hobas to Ai-Ais over 85kms with groups of 3-30/day.
Book with NWR Windhoek 0024/61 285 7200. www.nwr.com.na. as long ahead as possible as it is a very popular trip and often books out. A Dr's certificate is required for everyone, you need your own transport and accommodation. A tent may not be necessary but need a sleeping bag and pad. Stay at the Hobas Camp Site 10km from viewpoint before and after the trip if desired.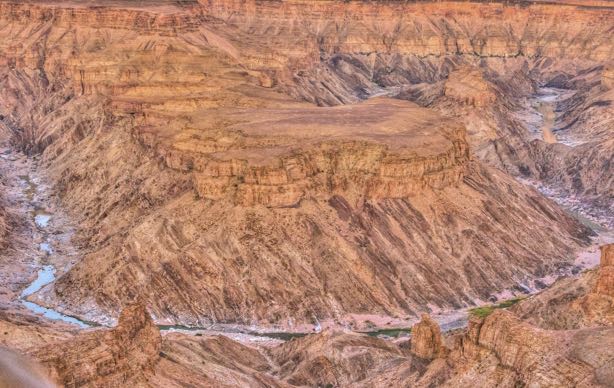 At 5pm, I drove out to the viewpoint and drove the kilometre road south for more, but not as good, views. I returned and ate dinner with a group of 24 traveling with Nomad Tours – Cape Town to Victoria Falls. My original plan was to sleep at the viewpoint but decided that it might be better to not do something illegal and continue north toward Keetmanshoop where I could get new rims.
Day 5. I left Fish River before the 8pm closing time and started to drive home to Windhoek. I slept on the side of the road in the open. The one thing I notice most about Namibia is the total quiet. Where I've been sleeping sees few tourists and little traffic. Only one vehicle went by all night. There were no chickens or roosters.
I stopped in Keetmanshoop at a tire dealer and a car wreckers, neither of whom had the rims. Nobody in Mariental had them either. In Windhoek, I stopped at Budget to enquire about returning the car a day early (no problem) and my exact extra insurance coverage. The $150/day extra insurance not only covers the chip on the windshield, but also tires, rims and hub cap covers. What a deal. I made an accident report the next day – the whole escapade didn't cost a penny.
The car hire was expensive: $3401 for 5 days which equals about US$65.50/day. To avoid the $900 cleaning fee, I spent about an hour at a car wash with a vacuum cleaner as the interior was expected to be spotless, even no dust.
I arrived at the Cardboard Box Hostel at 4 to find the only space was camping. It had been thunder showers all afternoon, these were expected to continue and I was not keen on sleeping any more in a tent. A school group of 14-16 year olds from Botswana had booked all the dorm rooms. I checked back and they had a cancellation but it was in a dorm with all these kids. After meeting Tom, Gerry and Prince, my fears were allayed. They were nice kids who plan on going to bed at 10 and the bus driver was sleeping in the same 6-bed dorm. When I went back to the dorm room after dinner, they were all asleep at 8:30 and then up at 5am, perfect for me. That evening in the bar of the hostel, I talked to two wonderful young Zimbabwe women studying in Windhoek. It was great to hear perspectives living under Mugabe and life in Namibia and Africa.
I took the 5pm bus from Windhoek, 20 hours to Cape Town. With my inflatable neck pillow, a small pillow and sleeping bag, I caught up on much needed sleep. I met some people going to Africa Burn.